Associate Degree in Histology
Histology is no longer available to incoming students.
Make a difference in the medical field with a Histology degree
Our associate degree in Histology is designed specifically for those who want to continue their education and pursue a career in the rapidly-growing healthcare field.
In our Histology program, you will study the microscopic anatomy of cells and tissues, learn the appropriate testing for tissue samples to ensure proper diagnoses, and detect tissue abnormalities. Working in our student lab, you will learn: medical terminology, medical law and ethics, histology techniques, and concepts of fixation and staining. Take classes on-campus or in a hybrid format, which combines the best of both on-campus and online learning.
Become certified AND get your degree simultaneously
You will be simultaneously enrolled in our associate degree in Histology as well as our certificate in Histologic Science. To your advantage, following successful completion of the program and fulfillment of Goodwin's general education requirements, you will be awarded both the certificate in Histologic Science and the associate degree in Histology. The certificate program is accredited by the National Accrediting Agency for Clinical Laboratory Sciences (NAACLS).
You will be eligible to sit for the Histotechnician (HT) Board of Registry exam administered by the American Society for Clinical Pathologists. If you possess a baccalaureate degree, you may be eligible to sit for the Histotechnologist (HTL) national examination. Reflecting the guidelines set forth by our accrediting body, as of June 30, 2019, 100% of Goodwin University Histotechnician graduates have passed the ASCP Board of Registry Certification Exam.
Job opportunities include:
Botany and forensic medicine
Hospitals
Immunopathology
Industrial and university research
Marine biology
Pharmaceutical testing
Veterinary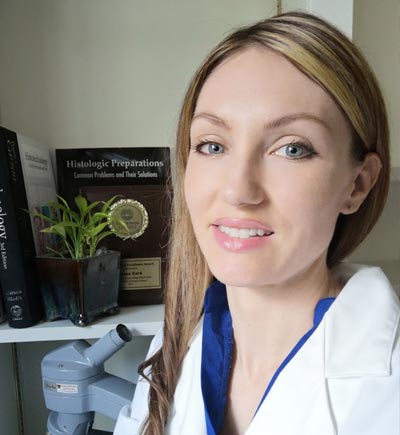 Challenging and intriguing, the Histology program blends both the arts and the sciences: a profession that dives into our world on a microscopic level where the learning never truly ends.
We're Ready When You Are.
Contact Us Today!
Goodwin University will never sell your personal information to a third party. By submitting your contact information, you give permission to Goodwin University to contact you by phone, email, mail, and text message.
Find more information in the academic catalog.
Licensing for Histotechnicians varies by state. Students are encouraged to explore licensing requirements for the state they intend to work in prior to submitting their application for enrollment.