Associate Degree in Nursing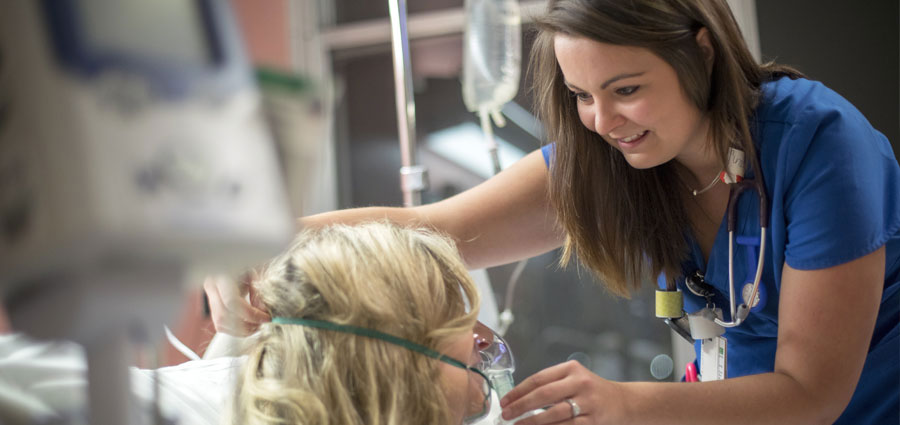 Christen Curtis, RN
Start on your path to becoming a Registered Nurse with Goodwin's Associate Degree in Nursing
Turn your passion for helping others into a rewarding career. As a nurse, you can make this world a better place for your patients through the provision of quality, compassionate care. You will care for people of all ages, promoting optimal health.
Goodwin College offers you the ability to complete the nursing coursework towards your associate degree in Nursing in as few as 20 months part-time.* For your convenience, most classes are offered days and evenings. Clinical experiences are chosen by lottery and there are day, evening and weekend options available.
How it works
Our associate degree in Nursing is a selective admission program. You may apply into the program only after completion of all required prerequisite coursework. While completing your required prerequisite coursework, you will also be able to register for classes in our bachelor's degree in Health Science. Once you have applied and been accepted into our associate degree in Nursing program, you will be then able to take the core nursing classes towards your associate degree in Nursing.
Upon completion of your degree, you will take the National Council Licensure Exam (NCLEX) to become licensed as an RN. Once you have passed the NCLEX and are licensed as an RN, you may wish to complete your bachelor's degree in Nursing.
Our Students
Hundreds of our nursing graduates work in hospitals and health care centers throughout Connecticut. Employers identify our graduates as exceptionally caring and compassionate individuals who deliver safe, quality care. A Goodwin nursing degree can open up a new world for you, one that includes career satisfaction, prestige, and a great sense of making a difference in the lives of others.
* Additional time is required to complete prerequisite courses.
Contact Us Today!
Goodwin College will never sell your personal information to a third party. By submitting your contact information, you give permission to Goodwin College to contact you by phone, email, mail, and text message.
Goodwin College is accredited by the New England Association of Schools and Colleges (NEASC). The Associate in Science degree in Nursing was granted continuing accreditation by the Accreditation Commission for Education in Nursing (ACEN). The next evaluation visit is scheduled for Fall 2018. For more information contact
Accreditation Commission for Education in Nursing
3343 Peachtree Road, Suite 850
Atlanta, Georgia 30326
404-975-5000
www.acenursing.org
Goodwin College's annual first time pass rate for the National Council Licensure Examination (NCLEX) is 89.4% (State Board of Examiners for Nursing, May 1, 2016 – April 30, 2017). Program completion rate for the Nursing program is 96% (Fall 2016 - Summer 2017). Between 12/1/2016 and 12/1/2017, 97% of graduates from the Goodwin College Associate Degree in Nursing (ADN) program responded to our request for employment verification, and 97% of them are currently employed in the field.
Find more information in the Academic Catalog.