Associate Degree in Dental Hygiene
You Have What It Takes to Start Changing Lives — One Smile at a Time
Accessible dental care is about so much more than having a nice smile. Dental hygiene can be indicative of health issues occurring in other parts of the body, and a person's smile can have a big impact on their sense of self-confidence. As a dental hygienist, you'll have the opportunity to make a difference in the lives of all your patients by performing cleanings, providing oral hygiene education, and even crafting new smiles. You'll provide patient-centered care and play an important role in making dental care possible for more people in your community.
Start Providing Dental Care to Patients of All Ages
Maintaining proper dental hygiene is important during every stage of life, and a person's needs change based on their age and demographic. As a dental hygienist, it will be your responsibility to assess patient needs, provide preventative services, conduct clinical and oral cancer screenings, and promote daily oral health habits. In this program, you'll study dental hygiene concepts and develop care plans specific to pediatric, adult, and geriatric patients, so you'll gain the skills necessary to meet the individual needs of every member of your community.
Gain the Hands-On Experience You Need
At Goodwin University, we believe that the best way to learn is by participating in hands-on clinical training. That's why students at our Dental Hygiene school participate in clinical rotations in our on-campus Dental Hygiene Clinic. You'll provide free dental care to some of our most underserved communities — this includes performing cleanings, providing dental hygiene education, and assisting in more complex dental procedures. You'll work under the supervision of our licensed faculty to gain experience in the field and make a difference in the Greater Hartford area.
Jump into an In-Demand Field
The field of dental hygiene is growing rapidly. While earning your associate degree in Dental Hygiene, you'll gain experience in a variety of settings and explore the various career choices available to you after graduation. We partner with community health centers, preschools, senior centers, and addiction facilities across Connecticut to ensure you have the clinical experience and skills you need to enter the workforce and secure a rewarding career.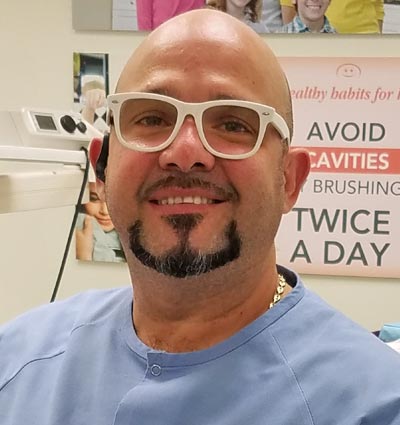 The Dental Hygiene program strived for students to use science-based knowledge. They educated us on the proper use of instrumentation and encouraged us to provide the best cleanings. They made sure you knew how to apply your knowledge and adapt to each patient. We were advised to make sure we knew about products before recommending them, and to truly know our clients before recommending their care.
We Do Things Differently
Career-focused Programs
Our degree programs are designed with your career in mind. Our Dental Hygiene school prepares you to provide compassionate, patient-centered care by combining traditional classroom learning with hands-on clinical training experiences. You'll apply the core concepts of dental hygiene to real-world clinical situations, ensuring that you enter the field with what it takes to be successful.
Flexible Scheduling
At Goodwin, we believe that taking care of your personal responsibilities is just as important as reaching your career goals. In our Dental Hygiene program, classes are offered during the day with on-campus, online, and hybrid formats available. Clinical sessions operate on a rotating schedule of days, evenings, and weekends. You should never sacrifice your personal life to get your degree, and at Goodwin, you don't have to.
Affordability
Paying for college doesn't have to be stressful. We offer a variety of financial aid opportunities to help you afford your education. Students may be eligible for grants and scholarships that don't have to be paid back, student loans that have to be repaid, and work-study opportunities that provide a regular paycheck.
Support Services
We are committed to supporting our students in any way possible. This includes offering services to help you both personally and professionally. Here's a look at the resources you can take advantage of when you earn your degree at Goodwin.
We're Ready When You Are.
Contact Us Today!
Goodwin University will never sell your personal information to a third party. By submitting your contact information, you give permission to Goodwin University to contact you by phone, email, mail, and text message.
Find more information in the academic catalog.
The Goodwin University Dental Hygiene program is accredited by the Commission on Dental Accreditation, a specialized accrediting body recognized by the United States Department of Education. The Goodwin University Dental Hygiene program has been granted accreditation status as: Approval without reporting requirements. This accreditation classification is granted to an educational program indicating that the program achieves or exceeds the basic requirements for accreditation. The Commission on Dental Accreditation can be contacted at (312) 440-4653 or (800) 621-8099 at 211 East Chicago Avenue, Chicago, IL 60611. The Commission's web address is: www.ada.org/en/coda/accreditation