Online Psychiatric-Mental Health Nurse Practitioner (PMHNP) program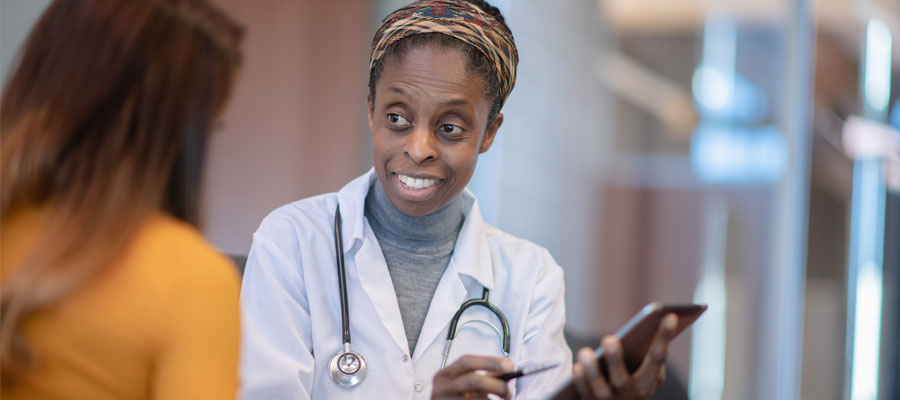 Become a compassionate mental health provider with your PMHNP degree
The application deadline for the fall 2023 class start is August 14, 2023.
Psychiatric mental health nurse practitioners (PMHNPs) provide much-needed support for those struggling with their mental health. As a PMHNP, your work will help improve the wellbeing of your community by advocating for the importance of comprehensive mental health care. In this program, you'll gain the skills to promote healthy lifestyle choices and teach your patients effective strategies for managing their mental health conditions. If you already have your BSN and you're looking to expand your knowledge in the mental healthcare field, our Psychiatric Mental Health Nurse Practitioner program could be a great fit for you!
We have been awarded scholarship assistance through CT Health Horizons initiative to increase and diversify the nursing profession in Connecticut. Students who are enrolled in the ABSN, RN-BSN or MHNP programs and are Pell Grant eligible or live in an Alliance School District may qualify for up to $10,000 through this initiative. Ask your Financial Aid advisor for more information about your eligibility.
An online degree designed for working professionals
At Goodwin University, you can become a psychiatric mental health nurse practitioner in as few as seven semesters part-time! With the exception of your on-campus clinicals, all your coursework is completed online. You can work full-time while earning your master's degree. Your real-world experience as a nurse will guide you as you explore patient care through a mental health lens. You've worked hard to earn your bachelor's degree — build on those skills by earning your APRN-PMHNP degree.
Graduates of Goodwin University's online PMHNP program go on to pursue rewarding careers in the following healthcare settings:
Acute or urgent care center
Correctional facilities
Hospitals
Long-term care facilities
Private clinics
And more!
Develop the knowledge and skills to diagnose patients and create individualized treatment plans
As a PMHNP, you'll become an advocate for people struggling with often misunderstood mental health conditions. In this program, you'll expand your care-providing skills with the technical knowledge you need to diagnose patients, develop treatment plans, and prescribe medications that help improve your patients' quality of life. Psychiatric mental health nurse practitioners play a critical part in reducing mental health stigma — being a voice for their patients and promoting positive changes in mental health policy.
Provide important patient-centered care
By building on the nursing skills you've already practiced, you'll develop a deeper understanding of the mental health needs of your patients. At Goodwin, you'll apply what you've learned in your online coursework by participating in a cumulative 600 hours of real-world clinical experiences — giving you the hands-on clinical practice you need to jumpstart your career as a PMHNP after graduation. We are committed to supporting our students in any way possible. This includes offering services to help you both personally and professionally. Here's a look at the resources you can take advantage of when you earn your degree at Goodwin.
You've dedicated your career to your patients' well-being, it's time you invest in yourself
Before your classes even begin, you'll get a breakdown of the costs, so you'll know exactly what you pay before you start. Financial aid is available for those who qualify. Between grants, scholarships, student loans, and work-study opportunities, Goodwin's got the financial aid package you'll need to help propel you forward to professional success.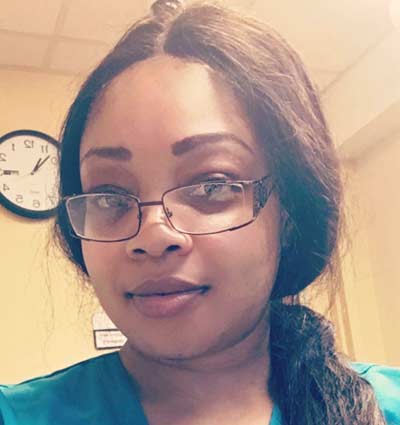 As a busy parent of three children, Goodwin allowed me to pursue my master's degree while also working full-time. The online format is easy to use, and the faculty are compassionate and helpful.
Contact Us Today!
Goodwin University will never sell your personal information to a third party. By submitting your contact information, you give permission to Goodwin University to contact you by phone, email, mail, and text message.
Find more information in the academic catalog.
The master's degree program in Nursing at Goodwin University is accredited by the Commission on Collegiate Nursing Education (CCNE). Goodwin University is a member of SARA and therefore can offer our MSN program to residents of other SARA states.