Certified Addiction Counselor (CAC) Certificate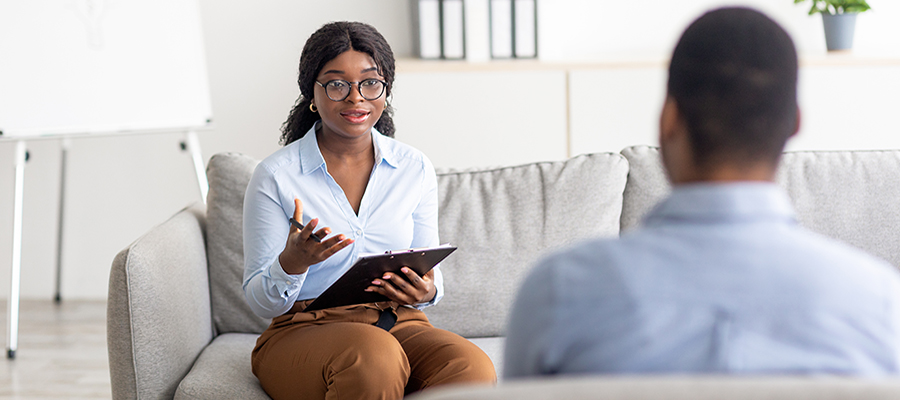 Prepare for a Career Helping Others by Becoming a Certified Addiction Counselor
The need for compassionate professionals dedicated to helping those struggling with addictive behaviors is growing. Certified Addiction Counselors work with individuals, couples, families, and others affected by addiction — providing critical coping skills, education, and support. By earning this certificate, you'll develop the skills and hands-on experience needed to address the unique effects of addiction disorders, which can impact all aspects of a person's life. Graduates of Goodwin's Certified Addiction Counselor (CAC) certificate program go on to work in residential treatment facilities, outpatient clinics, private medical practices, community health centers, governmental agencies, hospitals, human service clinics, and more!
Help Others in Your Community
As a certified addiction counselor, you'll work collaboratively with a team of medical professionals and mental health providers to help people in your community who are suffering from substance abuse problems and other addictive behaviors. You'll develop the knowledge and skills necessary to facilitate individual and group support services, intervene during a crisis, and provide critical community outreach and education. As a certified addiction counselor, you will use your voice to influence policy changes at the local, state, and federal levels, advocating for professionals in the field and those receiving treatment.
Learn from Experts in the Field
In this program, you'll learn from Goodwin's expert faculty of clinical mental health counselors, addictions professionals, social workers, and psychologists. You'll gain an in-depth understanding of the causes and treatment of substance abuse disorders and how these disorders affect our communities. You'll learn the necessary skills to work with individuals and families to counsel, educate, and support people affected by addiction. You will work to help clients develop new coping skills that can create lifelong positive change. When you earn your Certified Addiction Counselor certificate, you'll become part of a network of human service providers supporting clients and their families. At Goodwin, you can become the support professional your community needs.
Become a Sought-After Addiction Counselor
This program is designed for those with a high school diploma or an equivalent qualification who are looking to start a career helping others in their community. A Certified Addiction Counselor certificate is also perfect for someone active in their own recovery with a unique perspective on what it takes to overcome addiction. By earning your CAC certificate at Goodwin University, you'll set yourself on the path to a fulfilling and secure career filled with opportunities for advancement while making a difference in the lives of others.
At Goodwin, you'll gain the evidence-based clinical skills you need to stand out during the job search process. The Certified Addiction Counselor certificate program is a pathway to certification with the Connecticut Certification Board (CCB).
Possible workplaces include:
Community health facilities
Governmental agencies
Hospitals
Mental health clinics
Methadone maintenance facilities
Non-profit organizations
Outpatient clinics
Private medical clinics
Residential treatment facilities
We Do Things Differently
Career-Focused Programs
Our degree programs are designed with your career in mind. This program will give you the technical knowledge and the hands-on experiences that are critical to a successful addiction counseling career.
Flexible Scheduling
At Goodwin, we believe that taking care of your personal responsibilities is just as important as reaching your career goals. Our CAC certificate program is designed for working professionals. Classes are offered entirely online with the exception of in-person internship hours — so you can tailor your education to fit your busy schedule.
Affordability
Paying for college doesn't have to be stressful. We offer a variety of financial aid opportunities to help you afford your education. Students may be eligible for grants and scholarships that don't have to be paid back, student loans that have to be repaid, and work-study opportunities that provide a regular paycheck.
Support Services
We are committed to supporting our students in any way possible. This includes offering services to help you both personally and professionally. Here's a look at the resources you can take advantage of when you earn your degree at Goodwin.
Contact Us Today!
Goodwin University will never sell your personal information to a third party. By submitting your contact information, you give permission to Goodwin University to contact you by phone, email, mail, and text message.