Associate Degree in Respiratory Care
Become a Respiratory Therapist
Your work as a Respiratory Therapist will matter in times of need. You will be trained to work with various types of patients: adult, pediatric, and premature infants with cardio-pulmonary disorders. You will perform diagnostic and therapeutic procedures and help improve your patient's breathing patterns.
Our associate degree in Respiratory Care will provide you with the knowledge, skills, and abilities to position you for career success. You will learn to administer medications in aerosol form to help relieve breathlessness; obtain and analyze blood and sputum specimens; use ventilators to help patients who cannot breathe on their own; and perform diagnostic tests for patients with sleep disorders.
Our clinical partnerships with hospitals, health centers, and physicians will expose you to real-life experiences where you'll learn by doing. Classes and clinical rotations are offered in the evenings and can be tailored to your busy schedule.
Our program, like programs at other leading respiratory therapy schools, will prepare you for the entry-level examination and the advanced practitioner level examination for Respiratory Care Practitioners given by the National Board of Respiratory Care and to assume an entry-level position as a competent Respiratory Care Practitioner. Upon completion of the program and licensure, you will have the necessary skills and knowledge to secure employment as a registry-eligible Respiratory Care Practitioner. If you are interested in pursuing a bachelor's degree in Health Science, you can apply the majority of your credits towards these degrees.
Our Program Prepares Students To Work in a Variety of Settings:
Acute care hospitals
Homecare settings
Life Star air ambulance
Rehabilitation and long term care facilities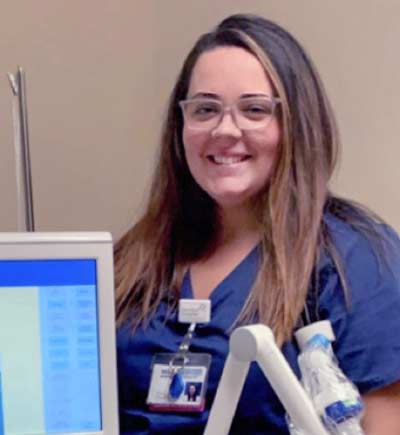 Going to Goodwin has changed my life for the better. The time and attention the faculty provided to make sure I succeeded, is something I'll never forget. I was able to reach my full potential going to Goodwin and now I have a career in my field, and I couldn't be happier!
We're Ready When You Are.
Contact Us Today!
Goodwin University will never sell your personal information to a third party. By submitting your contact information, you give permission to Goodwin University to contact you by phone, email, mail, and text message.
Find more information in the academic catalog.
The Respiratory Care Associate in Science program at Goodwin University, program number 200505, located at One Riverside Drive, East Hartford, CT 06118 is accredited by the Commission on Accreditation for Respiratory Care (CoARC) located at 264 Precision Blvd, Telford, TN 37690; Phone: 817-283-2835, www.coarc.com. When making inquiries, please refer to program #200505.
CoARC accredits respiratory therapy education programs in the United States. To achieve this end, it utilizes an 'outcomes based' process. Programmatic outcomes are performance indicators that reflect the extent to which the educational goals of the program are achieved and by which program effectiveness is documented. Programmatic outcomes can be viewed here: coarc.com/students/programmatic-outcomes-data
The Connecticut Society for Respiratory Care represents the AARC in Connecticut. This site will keep you abreast of advances in Connecticut respiratory care, provides links to available jobs, and has information about the annual conference.
The National Board of Respiratory Care is the national credentialing body for certification as a respiratory therapist. Exam applications and practice exams are available on this site.
The American Association for Respiratory Care is the professional organization for respiratory therapists. On this site you will find career information, learn what a respiratory therapist does, and get access to professional journals.
The Commission on Accreditation for Respiratory Care is the organization that accredits our program. Policies and procedures about the accreditation process, scholarships, as well as program outcomes can be found here.