Master's in Organizational Leadership (MSOL) Degree
Earn your Organizational Leadership Master's Degree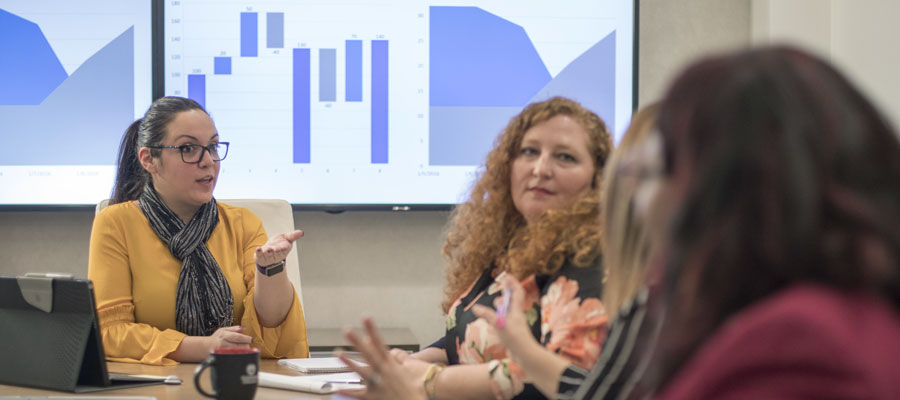 Discover and unleash your inner leader
A master's degree in Organizational Leadership from Goodwin College will help you explore new horizons and reach new heights. This program will take you to new places academically, personally, and professionally.
Become a visionary leader.
Alongside your peers, you'll learn the secrets to becoming an effective and committed leader. We'll prepare you with the skills needed to make a positive impact in organizational culture, communication, and talent and performance management. Whether you're looking to advance your career into a leadership or managerial position or you want to acquire new skills to gain more responsibilities, this is the program for you.
This is the flexible leadership program you've been looking for.
You can complete this program in as few as 20 months part-time. For added flexibility, you can take classes fully online or in a hybrid online/on-campus format, that combines online and face-to-face learning. Classes are offered in accelerated 7½-week sessions with a 15-week capstone. Best of all, you can apply into the program at any time, start classes in the fall or spring, and study year-round.
We're here to take the journey with you.
We're completely invested in the success of our students. We'll help you uncover strengths you may not know you have and break down barriers that may have held you back in the past. Be prepared to be inspired! This is not a typical master's degree program, it's a life-changing experience.
There are financial aid opportunities available.
We understand what it's like trying to balance priorities and resources, that's why we have a dedicated team of Financial Aid Advisors who know exactly how to find financial aid opportunities to make your MSOL degree a reality. You may even be eligible for grants and scholarships to help offset the cost of your MSOL degree tuition.
Here's a quick Q&A video from our Leadership Live Facebook event. Contact Us Today!

Goodwin College will never sell your personal information to a third party. By submitting your contact information, you give permission to Goodwin College to contact you by phone, email, mail, and text message.