Bachelor's Degree in Child Study
Child Study/Early Childhood Education is no longer available to incoming students.
Nicole Randall, BS Child Study graduate
Shaping the minds of tomorrow
You can make a positive difference in the lives of children. From birth through eight years old, children need a strong foundation of support and knowledge to realize lifelong success. By becoming an early childhood educator, you can play a crucial role in child development and early learning.
Parents, families, and communities need devoted, nurturing — and prepared — caregivers who are invested in children's growth. Early childhood educators focus on nurturing children's social, physical, emotional, and cognitive skills as well as developing their abilities in language and literacy.
Hands-on learning
Students will have extensive opportunities for hands-on learning and will gain experience in a variety of early childhood settings, including our state-of-the-art Reggio Emilia-inspired Riverside Magnet School.
Graduates of our BS Child Study and AS Early Childhood Education program will obtain their Early Childhood Teacher Credential (ECTC). The ECTC will be required of all Connecticut teachers in state-funded programs by 2020, and Goodwin University has been approved for both the Infant/Toddler and Preschool levels.
Careers in child study
Your degree from Goodwin University will help prepare you for a career working with children and families as a:
Child advocate
Child care administrator
Child care teacher
Curriculum coordinator
Early childhood director
This degree program is grounded in developmental theory and emerging educational trends in early childhood education. Upon completion of the program students will have developed ethical decision-making abilities and the skills to foster relationships through creative problem-solving techniques. Early childhood professionals must acquire these skills in order to lead high quality programs for young children.
Graduation requirements
Students must complete all general graduation requirements as well as the general education requirements for bachelor's degree stated in the catalog. In addition, students must complete all Early Childhood core courses, PSY 115 and PSY 365 with a minimum grade of "C" in each course and a minimum cumulative GPA of 2.5.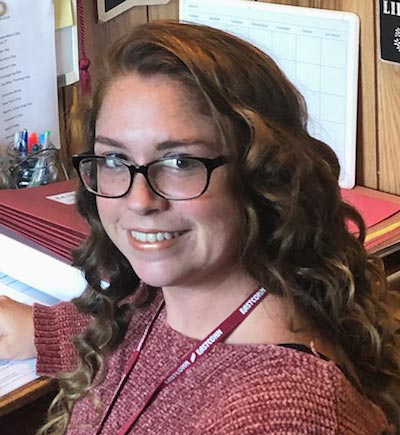 My experience in the Child Study program was nothing short of wonderful. My professors were extremely supportive every step of the way, ensuring that I had a deep understanding of child development and everything that early childhood education entails.
We're Ready When You Are.
Contact Us Today!
Goodwin University will never sell your personal information to a third party. By submitting your contact information, you give permission to Goodwin University to contact you by phone, email, mail, and text message.
Find more information in the academic catalog.