National Contact Lens Examination (NCLE)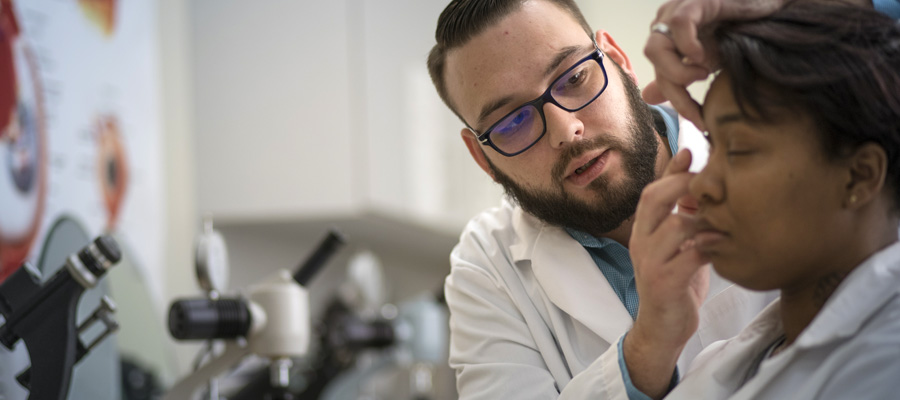 What is the NCLE exam?
The National Contact Lens Examiners, Inc. is a national, not-for-profit organization that offers competency certification examinations. The NCLE exam certifies dispensing opticians and is known as the Contact Lens Registry Exam (CLRE). ABO opticians must renew their certification every three years. In Connecticut, candidates applying to sit for the Connecticut State Board Practical Examination and Jurisprudence Examination must pass the NCLE exam.
Career outcomes
Certification can be used to enter into practice in the field, provide validation of competence, serve as recognition of excellence, or for regulatory purposes.
Who is eligible?
Candidates who are at least 18 years of age with a high school diploma or GED are eligible to sit for the exam. No experience is required, but two to three years of hands-on experience or completion of an optical school program are recommended.
NCLE exam overview
The ABO-NCLE exam is offered in a computer-based format and consist of 85-100 scored test items. Exams are offered quarterly in February, May, August, and November.
The CLRE contact lens exam consists of eight content domains:
Diagnostic fitting
Dispensing
Follow-up
Instrumentation for measurement and observation
Ocular anatomy
Prefitting
Refractive errors
Regulatory practices
For more information about the NCLE exam, please visit The American Board of Opticianry and National Contact Lens Examiners.
Learn more about our Vision Care Technology program.
We're ready when you are.
Contact us today!
Goodwin University will never sell your personal information to a third party. By submitting your contact information, you give permission to Goodwin University to contact you by phone, email, mail, and text message.