Universal Instructional Design Certificate Program - Universal Design for Learning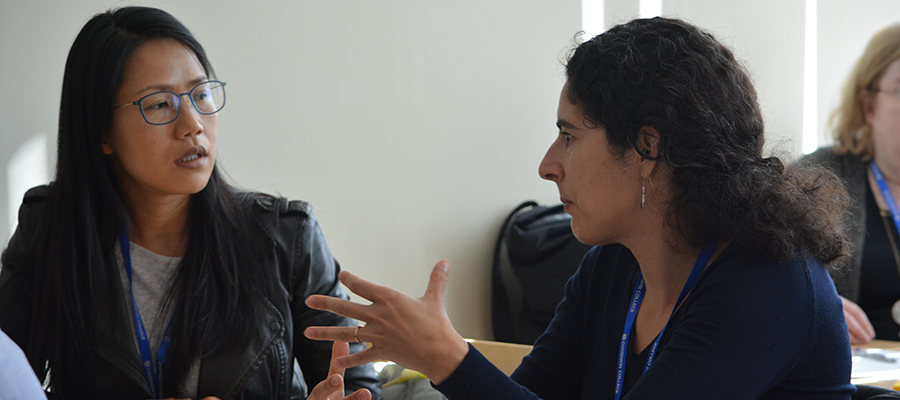 Expand Your Career with a Graduate Certificate in Universal Instructional Design
The need for professionals skilled at creating learning experiences that are tailored to their industry is growing. Instructional designers develop and implement educational courses and instructional materials for businesses, educational institutions, governmental organizations, healthcare companies, and Pre-K-12 school districts. By earning this graduate certificate, you'll develop the skills and experiences needed to design a curriculum in different modalities, including in-person, online, and hybrid. Graduates of Goodwin's Universal Instructional Design certificate program go on to work as professional development trainers, learning coaches, instructional designers, and more!
Learn How to Proactively Apply the Universal Design for Learning Framework
Now, more than ever, we need educators and corporate training professionals dedicated to providing inclusive, accessible, and flexible educational opportunities for diverse learners. In this program, you'll develop an in-depth understanding of the Universal Design for Learning Framework (UDL). UDL affords all learners equal access to content and varied opportunities to demonstrate success. By utilizing UDL principles, you'll be working to create a learning environment that is flexible and supportive of diverse learners.
Contribute to the Success of Your Organization
By earning your Universal Instructional Design graduate certificate at Goodwin University, you'll position yourself to advance professional learning opportunities for all individuals in your organization. At Goodwin, you'll learn from educators and researchers who are experts in the science of teaching and learning. You'll collaborate with peers from various industries to gain a deeper understanding of how to apply the principles and strategies you learn to your professional practice.
Become a Sought-After Learning Expert
This program is designed for working professionals with a bachelor's degree looking to advance their careers. A Universal Instructional Design certificate is perfect for Pre-K-12 educators, higher education instructors, professional development coaches, training and development professionals, instructional designers, and more! At Goodwin, you can become the learning expert that employers are looking for.
We Do Things Differently
Career-Focused Programs
Our degree programs are designed with your career in mind. Our Universal Instructional Design certificate program can be completed in as few as two semesters full-time, so you don't have to wait to advance your skills in this field. This program will give you the technical knowledge and the hands-on experiences that are critical to a successful instructional design career.
Flexible Scheduling
At Goodwin, we believe that taking care of your personal responsibilities is just as important as reaching your career goals. Our Instructional Design certificate program is designed for working professionals. 7-week classes are offered entirely online — so you can tailor your education to fit your busy schedule.
Affordability
Paying for college doesn't have to be stressful. We offer a variety of financial aid opportunities to help you afford your education. Students may be eligible for grants and scholarships that don't have to be paid back, student loans that have to be repaid, and work-study opportunities that provide a regular paycheck.
Support Services
We are committed to supporting our students in any way possible. This includes offering services to help you both personally and professionally. Here's a look at the resources you can take advantage of when you earn your degree at Goodwin.
We're Ready When You Are
Contact Us Today!
Goodwin University will never sell your personal information to a third party. By submitting your contact information, you give permission to Goodwin University to contact you by phone, email, mail, and text message.
Find more information in the academic catalog.