Online Nursing Program
An Online RN-to-BSN Degree Designed for Nurses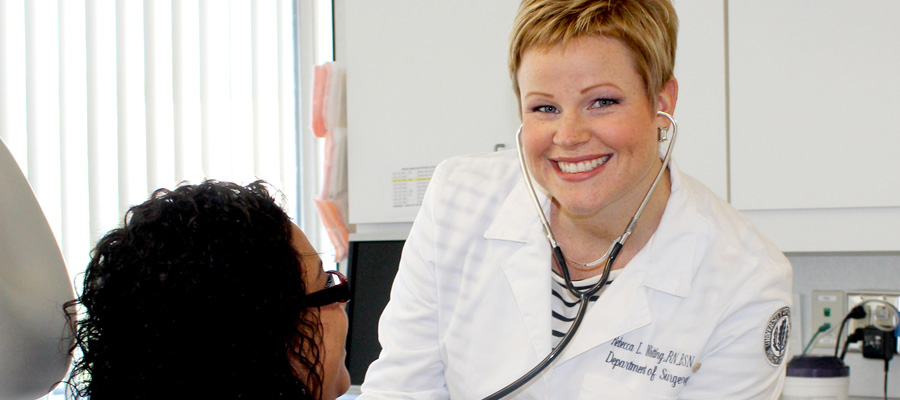 With demand for BSN graduates increasing, there is no better time to increase your experience and advance your career with an RN-to-BSN degree. Completing your BSN degree — either through an on-campus or online nursing program can help you advance in the healthcare field, or prepare you to enter into a graduate degree program.
An online nursing program designed for working RNs
The Goodwin University RN-to-BSN online nursing program has been designed around the busy lifestyles of working nurses. We understand that you work hard and it's not always easy to make it into class after a long day on your feet, so we've made it possible to complete your class work in a convenient online format.
Our RN-to-BSN online nursing program can be completed part-time in as few as 16 months or be designed to meet your individual needs. Graduates are prepared for nursing practice in a variety of settings with knowledge and skills that are transferable to multiple areas. And thanks to our fixed tuition model, you can know the total cost of completing your BSN degree before you begin classes.
Only students that have passed the National Council Licensure Exam (NCLEX) and are licensed as RNs, may register for NUR 300-400 level courses and complete their bachelor's degree in Nursing. Additionally, up to thirty-five (35) nursing credits may be awarded through the Connecticut Articulation Agreement upon satisfactory (C+ or better) completion of NUR 300 Foundations of Professional Nursing.
We're Ready When You Are.
Contact Us Today!
Goodwin University will never sell your personal information to a third party. By submitting your contact information, you give permission to Goodwin University to contact you by phone, email, mail, and text message.
Goodwin University is accredited by the New England Commission of Higher Education (NECHE), formerly known as the New England Association of Schools and Colleges (NEASC). The RN-to-BSN program is accredited by CCNE 2016-2021. Commission on Collegiate Nursing (CCNE) One Dupont Circle NW, Suite 530, Washington, DC 20036-1120, 202-887-6791.