Meet the Associate Degree in Nursing (ADN) Program Director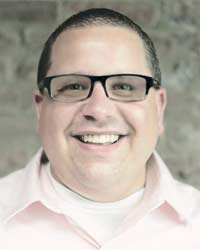 Bruce Hoffman has worked as a critical care registered nurse and paramedic in Connecticut, Massachusetts, and Maryland. His clinical background includes Cardiology, the ER, ICU, Trauma Care, and Flight.
Hoffman has earned his Associate of Science in Nursing (ASN) from Springfield Technical Community College and is a graduate of the RN-to-BSN program at Goodwin University. He went on to obtain his Master of Science in Nursing (MSN) from Western Governors University, and he has since attained his Family Nurse Practitioner degree from Morningside College.
Bruce was honored with Goodwin University's Community Service Award in 2016. In 2017, he had two works published in the Journal of Emergency Medical Services and was the 2019 recipient of the Dr. Sheila Packard Memorial Award from the Connecticut Nurses Foundation.
Hoffman is an active member of:
The American Nurses Association,
The Connecticut Nurses Association,
The International Association of Flight and Critical Care Paramedics, and
The National Association of EMTs
In his spare time, Bruce volunteers as an EMT, paramedic and CPR instructor and offers his expertise through committee work for the Air and Surface Transport Nurses Association (ASTNA).
As Goodwin University's associate degree in Nursing program director, Bruce looks forward to helping students transition from their dream of becoming a nurse to an achievable reality.
A Message From Professor Hoffman
Hello, and thank you for your interest in the associate degree in Nursing (ADN) program!

The ADN program's innovative teaching philosophy is grounded by a blend of instructor field experience and exceptional scholarly examples.

Our inclusive program is passionate about eliminating any educational and professional learning barriers of students. We've all heard the historical cliché — that nursing professors teach one way in the classroom, but that real word practice is entirely different — and at Goodwin, we'd like to break that notion of nonsense.

What our professors teach in the classroom is the same way they have practiced by the bedside. Our curriculum content and cohort expectations are practiced in clinical settings and reflect contemporary nursing research and knowledge.

ADN faculty and staff proudly help students make accessible connections between their education at Goodwin and training experience for their future careers. A former student of Goodwin myself, I am elated to give back all that the institution has provided me.

If you're ready to enter a rewarding profession that combines compassionate care with a truly satisfying career, I sincerely hope to see you soon!
Best regards,
Bruce Hoffman
MSN, FNP, BSN-RN, CFRN, NR-Paramedic, FP-C, CCP-C, C-NPT, EMSI