Meet the Business Administration Program Director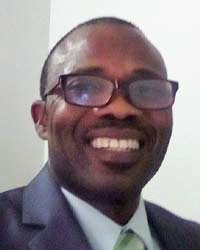 Dr. Ebenezer Afarikumah, also known as Dr. Eben, has dedicated years of his life to education and serving his communities. Dr. Eben has earned several degrees in Computer Sciences and Information, including an MBA in Management Information Systems and a Ph.D. in Information Technology.
Before he became Goodwin University's Business Administration program director, Dr. Eben taught at Greenfield Community College, Framingham State University, and the University of Ghanan. For 13 years as a Senior Research Scientist at the Institute for Scientific and Technological Information (INSTI) of the Council for Scientific and Industrial Research (CSIR), Dr. Eben focused on information systems in healthcare, business intelligence, and web accessibility.
As a person of faith, Dr. Eben enjoys volunteering and providing translation and interpretation services within the community. He founded a 501(c)(3) organization called Telehealth and Assisted Living Center, Inc, based in Easthampton, MA. Dr. Eben is a proud Phi Theta Kappa alumnus, the current president of Mohawk Trail Toastmasters Club, and an ISACA Greater Hartford Chapter member.
Dr. Eben enjoys hiking and sightseeing but, above all, finds that his first passion is teaching.
A message from Dr. Ebenezer
To my students, faculty colleagues, and community partners:

I decided to start my journey in Business Administration when I saw the necessity of combining business and information technology. I believe a positive classroom atmosphere will allow my students to identify the needs of business' next generation.

My daily goal will be to lead by example with a positive attitude that makes every student feel safe and important. This environment can encourage students to maximize their learning by actively participating in each lesson. I hope that this will lead to a greater increase in Goodwin's business school graduates who cross the stage with honors.

While outside of the classroom, I plan to build partnerships and collaborations with local, national, and global industries. My connections will be used to provide internships, employment, and consultation projects between my students and the current industry employers.

Overall, I hope my Business Administration journey at Goodwin University will be a ministry that supports people through technology, engineering, and learning.
Dr. Ebenezer Afarikumah,
Business Administration Program Director
We're Ready When You Are.
Contact Us Today!
Goodwin University will never sell your personal information to a third party. By submitting your contact information, you give permission to Goodwin University to contact you by phone, email, mail, and text message.