Associate Degree in Business Administration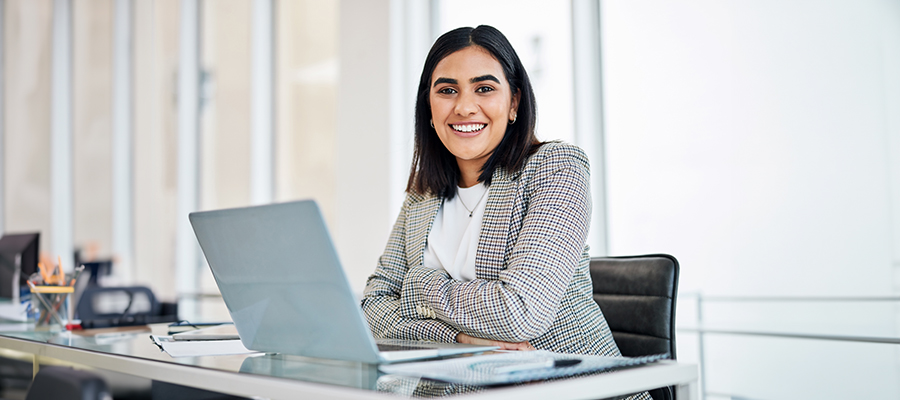 Bring Your Ideas to Life with an Associate Degree in Business Administration
With an associate degree in Business Administration from Goodwin University, you'll be prepared to combine your creativity and managerial skills to kickstart a rewarding career. Our program will give you the knowledge and skills to be successful in any business setting, whether you're interested in launching your own business, joining a start-up, or exploring the business side of the corporate world.
Gain Essential Business Skills
Through your coursework, you'll develop a deep understanding of business law and ethics, corporate social responsibility, and business planning and development. Our faculty are experts in the field of business, and they'll guide you as you learn the fundamentals of critical business skills — including accounting, budgeting, and important marketing principles.
Build Your Dream Career
Graduates of Goodwin University's associate in Business Administration program go on to pursue rewarding careers in the following industries:
Corporate
Education
Manufacturing
Nonprofit
State/Federal
And more!
We Do Things Differently
Career-focused Programs
Our degree programs are designed with your career in mind. Our associate degree in Business Administration program will help you become skilled in all areas of business, including business law, planning, and development. With a business degree from Goodwin University, you'll walk away with the knowledge of key concepts that are relevant and applicable to your career.
Flexible Scheduling
At Goodwin, we believe that taking care of your personal responsibilities is just as important as reaching your career goals. When you enroll in our associate degree in Business Administration program, you can build a schedule that works best for you. Classes are offered days, evenings, and even on weekends, with on-campus, online, and hybrid formats available — so you can tailor your degree to fit your busy schedule.
Affordability
Paying for college doesn't have to be stressful. We offer a variety of financial aid opportunities to help you afford your education. Students may be eligible for grants and scholarships that don't have to be paid back, student loans that have to be repaid, and work-study opportunities that provide a regular paycheck.
Support Services
We are committed to supporting our students in any way possible. This includes offering services to help you both personally and professionally. Here's a look at the resources you can take advantage of when you earn your degree at Goodwin.
We're Ready When You Are.
Contact Us Today!
Goodwin University will never sell your personal information to a third party. By submitting your contact information, you give permission to Goodwin University to contact you by phone, email, mail, and text message.
Find more information in the academic catalog.