CNC Machining Certificate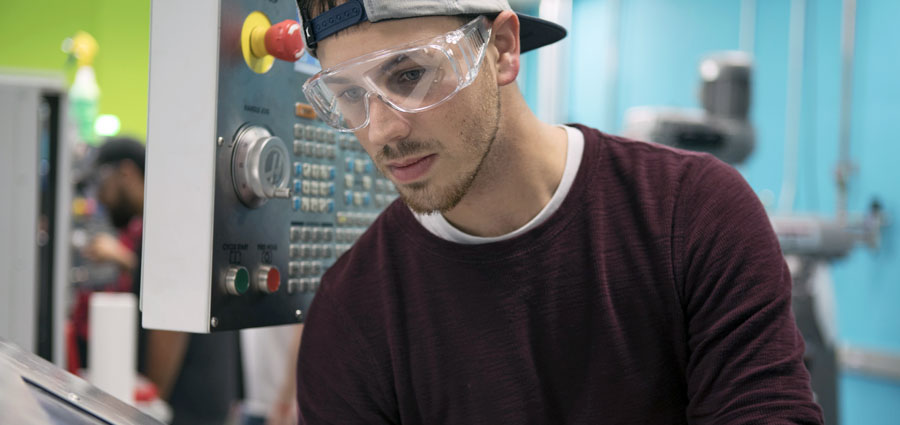 Jason Topor, CNC graduate
A new breed of manufacturing professionals is needed to lead the way.
The manufacturing industry isn't what it used to be. As technology and automation advance, prior practices of packed assembly lines and hard labor standards are rapidly declining. In their place, the need for critical thinking and specialized skillsets are on the rise. Certificates like CNC Machining make job security and occupational safety more plausible in the technological demands of the digital age.
Code Your Way into a New Career
Our program will prepare you with the skills necessary to control machine tools and 3D printers. By converting computer-aided designs into instructional codes, you will be able to coordinate and control the movements of commercial machines. Master an in-depth understanding of Mastercam skills by learning to program tool location, motion, feeds and speeds. Practice your cutting capabilities on our new 3-axis CNC milling machine. At Goodwin, you will learn the exact set of skills employers and industry leaders are looking for. From machine maintenance, material properties, and processing in manufacturing, to teamwork, and technical drawing, Goodwin has the innovative instruction and hands-on operational support essential to get you started.
A Flexible Fit for Your Future
At Goodwin, we're all about convenience. We know that you have a demanding life outside of the classroom — don't let this deter you. Evening classes are available (as well as day classes) and we are even here for our students on weekends. Most courses are on campus, with some hybrid class options available. We want to see you succeed. We want to see you in a stable, well-paying career.
Prepare For Life beyond the Books
Completion of your CNC Machinist certificate prepares you to pursue your National Institute for Metalworking Skills (NIMS) credential as a CNC Operator or CNC certification. If our CNC certificate program encourages you to further your education, credits from your CNC Machining certificate can even be applied toward your associate degree in CNC Machining.
Access the Resources Needed To Succeed
At Goodwin, financial aid is available. Between work study programs, student loans, scholarships, and grants, we have a variety of flexible finance options to fund your future. Concerned with how you would do in the classroom? Goodwin has an Academic Success Center that provides online and in-person tutoring as well as workshop and student development opportunities.
Shape your future with your CNC Machining certificate.
Curriculum
First Semester
| | | |
| --- | --- | --- |
| BMM 101 | Key Principles of Manufacturing | 3 |
| BMM 140 | Principles in Manufacturing Mathematics | 3 |
| BMM 175 | CNC Machining | 3 |
| BMM 220 | Materials and Processes in Manufacturing | 3 |
Second Semester
| | | |
| --- | --- | --- |
| BMM 110 | Technology in Advanced Manufacturing | 3 |
| BMM 222 | Technical Drawings & Specifications | 3 |
| BMM 240 | CAM I | 3 |
| BMM 275 | CNC Machining II | 3 |
Third Semester
| | | |
| --- | --- | --- |
| BMM 241 | CAM II | 3 |
| BMM 276 | CNC Machining Applications | 3 |
We're ready when you are.
Enrollment is hassle-free.
We're still accepting financial aid applications.
We'll review your transcripts of prior learning (usually in less than one business day).
Contact Us Today!
Goodwin University will never sell your personal information to a third party. By submitting your contact information, you give permission to Goodwin University to contact you by phone, email, mail, and text message.