Associate in CNC Machining Degree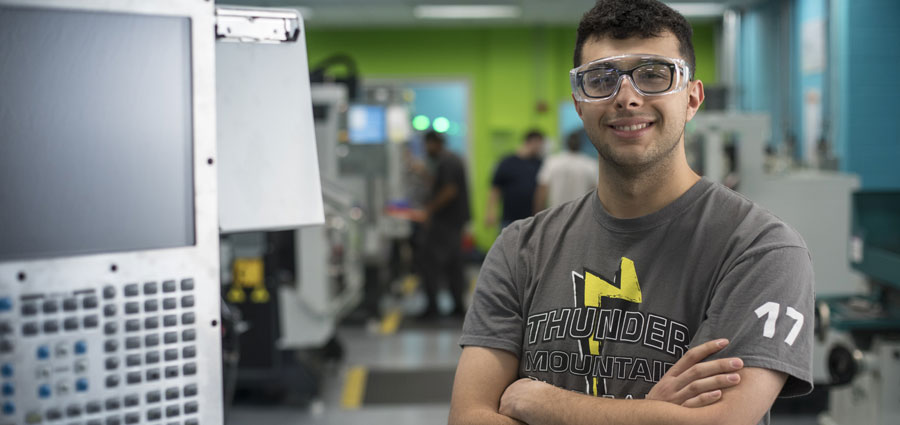 Paul Vella, CNC graduate
Jumpstart Your Career in This In-Demand Industry
Computer numerical control (CNC) machining is the foundation of modern manufacturing, and professionals with advanced skillsets in this field are in high demand. In Goodwin's CNC Machining program, you'll gain an in-depth understanding of manufacturing materials, mathematics, and specifications, as well as experience in technical drawing, computer-aided machining, and more. You'll transform into a skilled professional with the ability to jump into a variety of manufacturing roles. CNC machining has streamlined manufacturing. As technology evolves, your opportunities as a CNC machinist will continue to grow!
Gain Experience in Our On-Campus Manufacturing Facilities
At Goodwin University, we believe gaining relevant, hands-on experience is the key to a successful manufacturing career. When you earn your associate degree in CNC Machining, you'll have access to our state-of-the-art manufacturing facilities, where you'll practice advanced manufacturing skills under the supervision of experienced faculty members. This career-focused program is designed to help you apply technical knowledge to real-world manufacturing processes, which will give you the knowledge and confidence you need for success.
Expand Your Career Opportunities
Graduates of Goodwin University's associate degree in CNC Machining program pursue secure careers in the following settings:
Aerospace manufacturing
Machine shops
Mechanical engineering
Metalwork machinery manufacturing
Motor vehicle manufacturing
And more!
We Do Things Differently
Career-focused Programs
Our degree programs are designed with your career in mind. Our associate degree in CNC Machining program prioritizes hands-on learning that will give you the edge that employers are looking for in your job search. Our expert faculty are equipped with years of experience in the field of manufacturing, meaning they'll show you the ins and outs of the profession while preparing you to adapt to future advancements in the industry. At Goodwin, we are committed to giving you the skills to secure in-demand work with high potential for growth.
Flexible Scheduling
At Goodwin, we believe that taking care of your personal responsibilities is just as important as reaching your career goals and interests. In our associate degree in CNC Machining program, most classes are available evenings, with on-campus and hybrid options available. You should never sacrifice your personal life to get your degree, and at Goodwin, you don't have to.
Affordability
Paying for college doesn't have to be stressful. We offer a variety of financial aid opportunities to help you afford your education. Students may be eligible for grants and scholarships that don't have to be paid back, student loans that have to be repaid, and work-study opportunities that provide a regular paycheck.
Support Services
We are committed to supporting our students in any way possible. This includes offering services to help you both personally and professionally. Here's a look at the resources you can take advantage of when you earn your degree at Goodwin.
We're Ready When You Are.
Contact Us Today!
Goodwin University will never sell your personal information to a third party. By submitting your contact information, you give permission to Goodwin University to contact you by phone, email, mail, and text message.
Find more information in the academic catalog.