Associate in CNC Machining Degree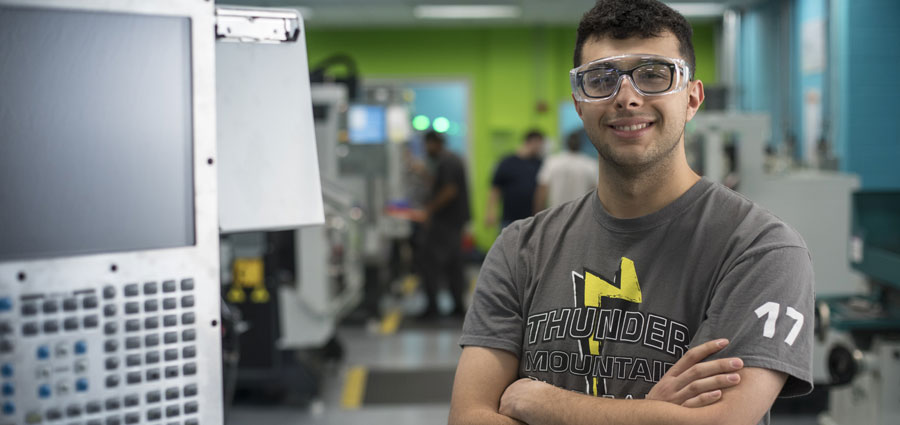 Paul Vella, CNC graduate
Train To Become a CNC Machinist
With changing trends in today's manufacturing workforce, a new breed of professionals is needed to step up and lead the way. Goodwin University's associate degree in CNC Machining is designed to put you on track for a rewarding career in this in-demand field.
This program integrates an understanding of the manufacturing processes, knowledge of materials, and a working comprehension of manufacturing mathematics. You'll also gain competence in technical drawings, specifications, and computer-aided machining.
Combined classroom instruction and hands-on operation of our new CNC 3-axis milling and turning machines will provide you with the knowledge and machining experience you'll need to be successful in the industry. In this program, you will also gain an in-depth understanding of advanced Mastercam skills needed for programming tool location, motion, and feeds and speeds.
If you choose to continue your education further, the credits you earn in this program can be applied toward a bachelor's degree in Manufacturing Management at Goodwin University.
Manufacturing is at the forefront of today's most viable options for employment. Goodwin University is ready to help you take the first step toward your new career as a CNC machinist.
We're Ready When You Are.
Contact Us Today!
Goodwin University will never sell your personal information to a third party. By submitting your contact information, you give permission to Goodwin University to contact you by phone, email, mail, and text message.
Find more information in the academic catalog.