Master's in Nursing (MSN) Degree
You can earn your master's degree in Nursing online.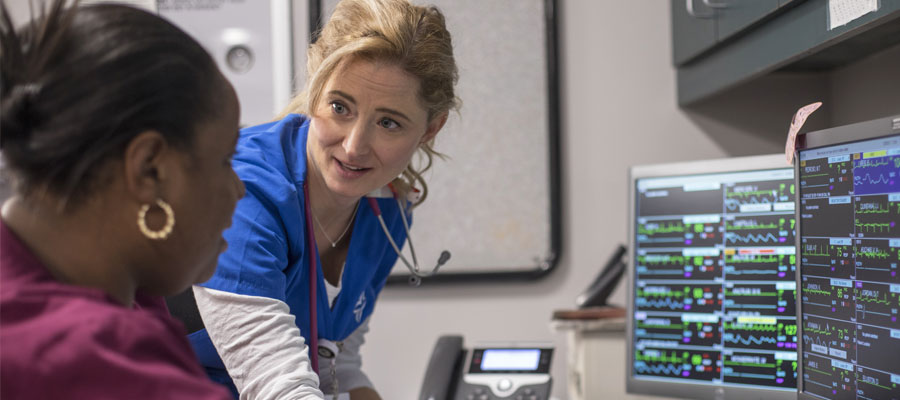 Whether you are looking to advance in your career through a leadership or management position, or you just want to acquire new skills and gain more responsibility at work, with your MSN degree from Goodwin, you'll gain the knowledge and experience needed to move up in the highly-competitive field of nursing.
This is the flexible MSN degree you need.
We've designed our MSN program for busy working RNs just like you, and you can complete your MSN degree in as few as 20 months part-time. For added flexibility, the coursework in our MSN program is designed to be completed fully online, so you can complete coursework on your own schedule.
Be a force for change in the health care industry.
Our MSN degree focuses on population health, where you'll explore how care is managed across various populations. You'll gain an understanding of how one's environment and accessibility to care can play a role in their health. Now is your chance to be a part of something bigger!
In this program, you will gain knowledge in the core areas of Pathophysiology, Pharmacology and Physical Assessment, and will expand your skillsets in research, health care-related policies and political implications, leadership, and communication, as well as skills related to population health vs. case management. You will be equipped to impact the present healthcare system, to focus on prevention as well as treatment, and to utilize available resources to their full potential. Credits earned in this degree will easily transfer into specialized MSN areas of practice or doctoral programs should you wish to continue your education.
There are financial aid opportunities available.
You may still be paying off student loans from your bachelor's degree, but you don't have to stress about tuition costs. We have a dedicated team of financial aid advisors who are trained to work with working nurses seeking their MSN degrees. These specialists know exactly how to find financial aid opportunities to make your MSN degree a reality and understand what it's like for a working nurse trying to balance priorities and resources. You may be eligible for grants and scholarships to help offset the cost of your MSN degree tuition.
Contact Us Today!
Goodwin College will never sell your personal information to a third party. By submitting your contact information, you give permission to Goodwin College to contact you by phone, email, mail, and text message.
Goodwin College is a member of SARA and therefore can offer our MSN program to residents of other SARA states.