Diversity, Equity, and Inclusion at Goodwin University
At Goodwin, you belong
At Goodwin University we identify, appreciate, and celebrate what makes you unique. We believe everyone's differences help to build a stronger community. Our top priority is creating a space in which you feel heard, accepted, and safe.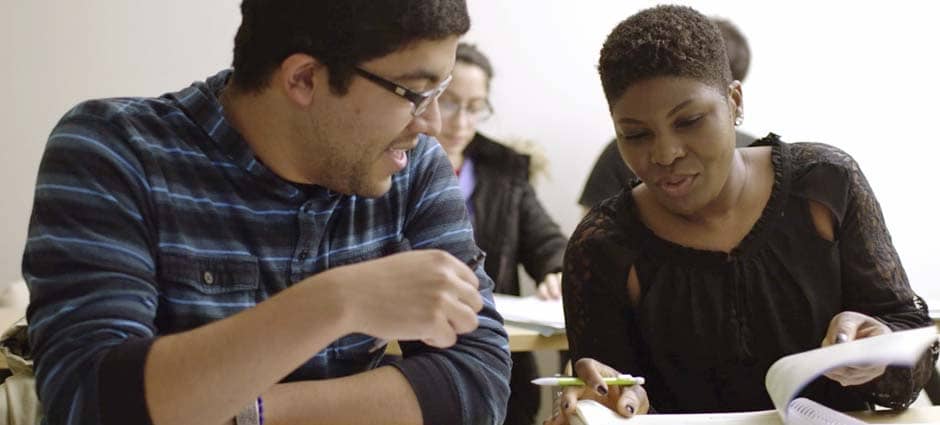 Diversity representation
Our students, faculty, and staff form a diverse community, and the University maintains that activities, programs, and everyday interactions are enriched by acceptance of one another in an environment of positive engagement and mutual respect.
"Goodwin's diverse student body opened my mind and impacted my way of thinking. People ranged in age, race, gender, and ethnicity, and it was a safe and enriching environment."
AccessAbility Services
The Office of AccessAbility Services (OAS) collaborates with Goodwin's diverse community to ensure that all aspects of campus life — learning, working, and living — are universally accessible.
Each building on campus has flat entrances or ramps and automatic opening doors. Additionally, each building has handicapped accessible parking for convenience and ease.
Gender, sexual orientation and Title IX
Goodwin University strives to raise awareness through clubs, events, and informational sessions for the LGBTQ+ community as well as domestic violence, stalking, and sexual assault awareness that include information about how to support persons who identify as LGBTQ+.
Religious representation and observation
Goodwin faculty are strongly encouraged to plan assignments and examinations with religious observances and holidays in mind. If an examination, quiz, or in-class assignment should occur on a religious observance or holiday, faculty members are advised to permit students to make up the exam, quiz, or assignment within a reasonable time.
"Goodwin has a family atmosphere… everyone I encountered that worked for Goodwin seemed to truly care about the success of each student."
Committees
Goodwin is home to three committees whose purpose is to plan much of the programming for diversity, equity, and inclusion. The committees are comprised of students and employees.
Pride Campaign Committee
Jewish Programming Committee
Black History Month Planning Committee
Support services
We believe that you deserve great support services and resources to help you achieve your goals! As a Goodwin student, you will never be left to fend for yourself. We will help you through each step of your journey — academically, personally, and professionally.
We're Ready When You Are.
Contact Us Today!
Goodwin University will never sell your personal information to a third party. By submitting your contact information, you give permission to Goodwin University to contact you by phone, email, mail, and text message.