Career outcomes with a MSOL degree
Find a Great Career With a Master's Degree in Organizational Leadership.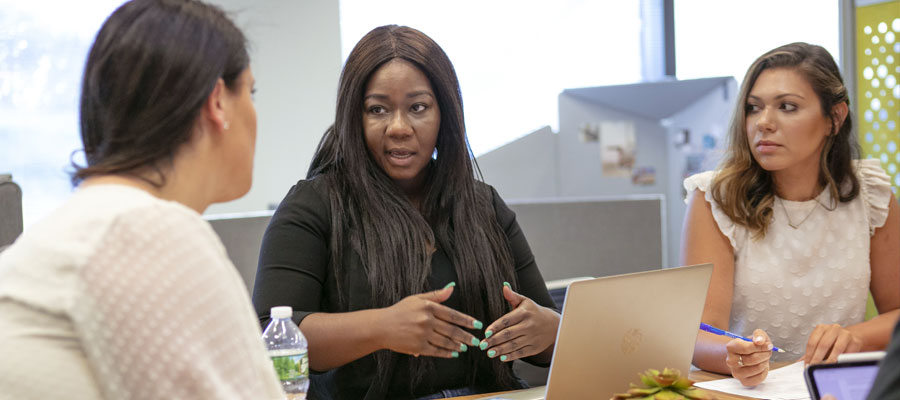 Earning your master's in Organizational Leadership (MSOL) unlocks the door to greater opportunities in your career. With your MSOL, you'll have access to leadership roles and higher salaries. In fact, according to the Bureau of Labor Statistics, employees with a master's degree earn an average of $500 more per week than those with a bachelor's or associate degree*. In many industries, earning a master's degree can increase your lifetime earning potential while lowering your risk of being unemployed or going without health insurance. Whether you want to change fields or advance at your current company, a master's in Organizational Leadership will help you achieve more in your career.
Good Leadership Changes Any Environment in Any Industry
With an MSOL degree your career possibilities are endless. Graduates of Goodwin's MSOL degree have gone on to secure careers in:
Finance
Government and politics
Higher education
Human resources
Insurance
Leadership training
Manufacturing
Non-profit and NGO's
State and federal agencies
Training and development
And more!
With an MSOL degree you will:
Advance your existing skillsets and gain deeper insight into the most effective leadership strategies.
Learn the most up-to-date methods for fostering workplace productivity.
Gain valuable insight into successful talent acquisition and performance management techniques.
Unsure of What's Next? Let Goodwin Help!
When you earn your degree at Goodwin University, you'll have access to our support services even after graduation! Our lifetime Career Services can help you secure a rewarding career no matter how long ago you graduated. So even if your field isn't recession-proof, Goodwin's Office of Career Services can help you get back on track with a secure career in no time! Even still, earning your master's degree means you will be less likely to experience unemployment throughout your career. By earning your MSOL degree, you'll be investing in a secure future for yourself and your family!
*U.S. Bureau of Labor Statistics, 2022
Contact Us Today!
Goodwin University will never sell your personal information to a third party. By submitting your contact information, you give permission to Goodwin University to contact you by phone, email, mail, and text message.