Organizational Leadership Graduate Courses
Master's in Organizational Leadership curriculum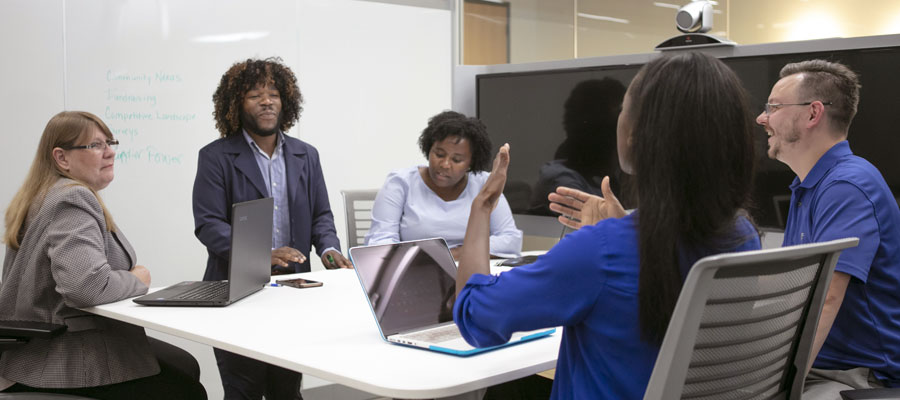 The graduate MSOL curriculum is designed to help you obtain the knowledge and skill-set to advance in your career through a leadership or management position. Our program is made up of 30 credits and can be completed part-time in as few as 20 months.
With flexibility in mind, our Organizational Leadership program classes are all available fully online or in a hybrid format that combines the freedom of online learning with face-to-face interaction in a classroom setting.
MSOL program curriculum:
OL 500

Foundations of Leadership

This course explores leadership across organizational entities of business, government and non-profits where management and supervision intersect. Topics also include problem-solving, conflict resolution, leadership styles, cross-cultural and cross-generational challenges and stakeholder engagement. This exploration engages the learner in the ethical expectations of leadership and the practice of reflection.

3
OL 510

Leadership Practices in Organizational Communications

This course focuses on the persuasive techniques and strategies for effective communication to internal and external stakeholders by leadership. Case studies are used to examine communication successes and failures. The role of ethics in communications is integrated as part of the leaders' understanding and practice of sharing information with stakeholders.

3
OL 520

Data-Driven Decision-Making for Executives

This course provides a foundation for data driven decision-making practices for managers at the mid-level and strategic apex of the organization. The use of metrics to guide decision-making and improve performance is central to the learner experience. Essential measurement tools and resources are explored, such as a balanced scorecard.

3
OL 540

Talent and Performance Management

More than an evaluation training piece, participants in this course explore and use relevant strategies to develop their workforce from onboarding through career development planning. Strategies around efficiencies incorporate previous learning to create productive workplaces and identify future talent for development within the organization. Talent development through coaching, mentoring, and shadowing are among the strategies explored.

3
OL 650

Sustainability of Innovation and Strategic Advantage

This course develops the requisite skills for understanding and implementing systemic planning within a variety of organizations. Strategic goal setting, mission driven plans, managing constrained resources, and monitoring and modifying strategic plans in a dynamic environment are emphasized for the sustainability of innovation and keeping the organization at a strategic advantage.

3
OL 660

Leading Organizational Change

Participants learn the art and science of leading change within an organization to ensure success in the change process. The dynamics and effects of change on the workforce are explored and then participants develop change plans for an organization to ensure the building blocks of successful change are complete and implemented.

3
OL 695

Leadership Capstone

Students have the option of a leadership research project integrating the leadership competencies learned and apply them to a case study or simulation; OR, students may engage in a group or individual leadership consultancy project with an external organization where a real leadership issue is present and needs to be addressed through the lens of prior learning and leadership best practices. Participants work closely with a faculty advisor for either course project. This is a 15-week course. (Prerequisite: Satisfactory completion of Comprehensive Exam).

3
Electives (choose 2) - 6 credits
OL 525

Special Topics in Leadership

This course explores current leadership issues on the forefront of organizations given the present socio-economic status of the environment. Participants also engage in the presentation of key issues for stakeholders, including an understanding of followership, human resource obligations and practices, innovative management strategies, leading project managers and the business of leadership concerning finances and culture.

3
OL 620

Negotiating & Conflict Response

This course focuses on exposing students to negotiation and conflict response. Students practice negotiating on a range of topics, including negotiating in difficult situations. Through the use of readings, discussions and simulations, students develop an appreciation of conflict dynamics and the art and science of negotiation. Though the course emphasizes both theoretical and practice, the reflective elements of how this impacts leadership are integrated into a true examination of the student's relationship to conflict and negotiation.

3
OL 680

Engaging with Senior Executives

This course provides students with insight into how decisions are made at the executive level and how the students can influence those decisions. Students will assess and further develop their ability to create and sustain relationship with senior executives. Topics include: The Politics of Leadership, Influencing Skills, Building a Business Case, and Critical Issues for Senior Executives. Students will interact with senior executives in guided simulations and receive feedback directly from these senior executives.

3
Directed electives (choose 1) - 3 credits
OL 665

Applied Research Skills for Organizational Leaders

This course provides students with basic competency using quantitative, qualitative, and mixed methods commonly found in the workplace. The course thereby offers the student the opportunity to study research methodology as it relates to the needs and goals of the organization. Fundamental statistics are covered. Students apply research methods to work-related problems using statistical software, and they learn to make accurate interpretations of data, as well as to recognize specious ones or poor methodology/results.

3
OL 685

Leadership Training and Development

This course delves into the design and execution of leadership training programs. Students will be exposed to elements of design and execution by exploring existing programs. Students will be introduced to a community organization they will work with in this course and through their capstone experience. Students in groups will begin the process of development and execution of a training program that aligns with the community organization's mission and purpose. Students will use the ADDIE model to analyze, design, develop, implement and evaluate the training. Students will critique the process and deliverables through engagement with the assigned community organization.

3
Up to 6 graduate-level credits can be transferred into the program from an accredited graduate institution.
Contact us today!
Goodwin University will never sell your personal information to a third party. By submitting your contact information, you give permission to Goodwin University to contact you by phone, email, mail, and text message.