Associate Degree in Health Science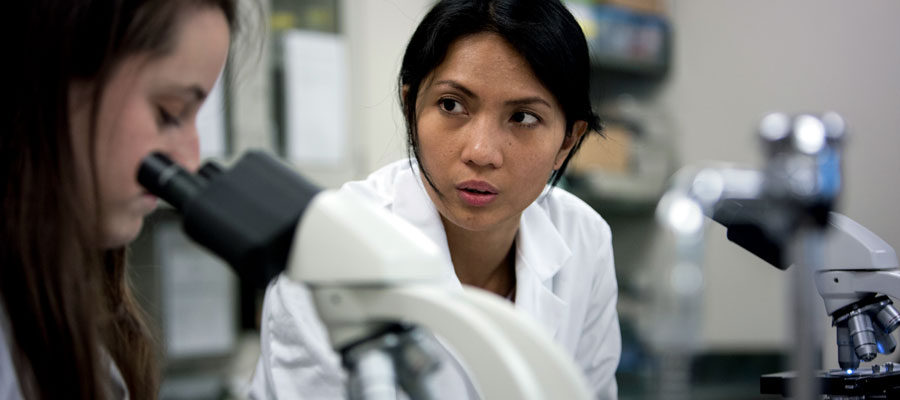 Become a Health Science Professional and Start Changing Lives
Doctors, nurses, and direct patient care providers have important roles within the healthcare field, but health science professionals operate behind the scenes to advance modern medicine and expand our knowledge of human health as a whole. Experts in health science play an integral role in the healthcare field — the research they conduct and biostatistics they study informs medical professionals of current health trends, so they can save lives and improve the population's overall wellbeing.
When you earn your associate degree in Health Science, you'll be introduced to the fundamental concepts of Health Science and get prepared for entry-level work in the healthcare field. An associate degree will open doors to opportunities for career advancement and continued education, which can result in higher salary potential and more career satisfaction.
Tailor Your Degree to Fit Your Interests
Every student's educational journey is different — that's why we make it easy for you to take courses in a format that aligns with your career goals. Our associate degree in Health Science can be completed in a variety of ways.
Healthcare Career Exploration

If you have not decided which specific healthcare profession you would like to pursue, this track is perfect for you. This option gives you an opportunity to explore various career options and discover what interests you most about the field.

Associate Degree Completion

This track allows students who have already obtained a national certification or license to earn college credits and work towards completing their associate degree. Students completing their Medical Billing and Coding certificate can apply these credits toward their associate degree in Health Science.

Transfer to a Baccalaureate Degree

Individuals can complete the associate degree program with the intention of pursuing a bachelor's degree in Health Science or another related field. You'll earn credits towards your four-year degree and walk away with a deep understanding of important concepts related to Health Science.
Explore Your Career Options
When you earn your associate degree in Health Science at Goodwin University, you can choose to pursue advanced education or explore rewarding careers in the following settings:
Behavioral analysis
Community health
Health education
Mental health counseling
Patient care advocacy
Research
And more!
We Do Things Differently
Career-focused Programs
Our degree programs are designed with your career in mind. Our associate degree in Health Science program gives you the flexibility to pursue different tracks, all based on your specific career goals. This allows you to narrow your focus and sharpen the skills that are critical to success in your future career.
Flexible Scheduling
At Goodwin, we believe that taking care of your personal responsibilities is just as important as reaching your career goals and interests. In our associate degree in Health Science program, classes are offered days, evenings, and weekends, with on-campus, online, and hybrid formats available. You should never sacrifice your personal life to get your degree, and at Goodwin, you don't have to.
Affordability
Paying for college doesn't have to be stressful. We offer a variety of financial aid opportunities to help you afford your education. Students may be eligible for grants and scholarships that don't have to be paid back, student loans that have to be repaid, and work-study opportunities that provide a regular paycheck.
Support Services
We are committed to supporting our students in any way possible. This includes offering services to help you both personally and professionally. Here's a look at the resources you can take advantage of when you earn your degree at Goodwin.
We're Ready When You Are.
Contact Us Today!
Goodwin University will never sell your personal information to a third party. By submitting your contact information, you give permission to Goodwin University to contact you by phone, email, mail, and text message.
Find more information in the academic catalog.