Dental Hygiene Clinic
Dental Hygiene Clinic
Our Dental Clinic's Mission: Your Health, Your Smile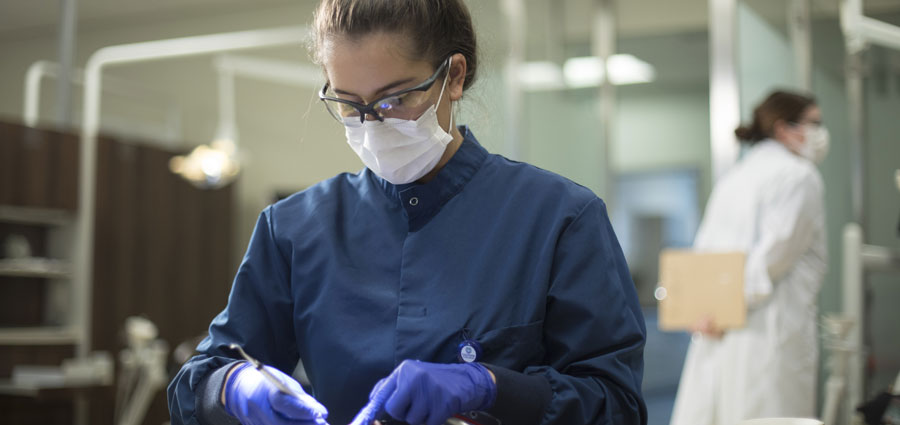 Did you know that your oral health is an effective, accurate indicator of your overall health? Or that dental problems can seriously impact other areas of your body? Understanding the important connection between good oral care and your general well-being can set the stage for years of a significantly healthier life.
Goodwin University strongly believes in serving our neighbors and friends in the Greater Hartford area. And we believe that everyone has the right to accessible dental care. To address an ever-increasing need in our local community, Goodwin's new Dental Hygiene Clinic is committed to providing a variety of free dental hygiene services to both children and adults. We also work with community partners providing outreach services such as oral health screenings, dental hygiene education, nutritional and smoking cessation awareness. Our students provide these services in sites such as community health centers, preschools, senior centers and behavior health and addiction facilities.
Services are provided by Goodwin dental hygiene students under the direct supervision of experienced and licensed dental hygiene faculty and dentists. The average appointment time is approximately three hours and more than one appointment may be necessary to complete certain procedures.
Good dental care means more than just brushing your teeth. Services provided to our dental hygiene patients include:
Dental and periodontal charting and assessment
Dental sealants
Fluoride treatments
Oral cancer screenings
Health history, including blood pressure, pulse and respiration assessments
Home-care kit
Nutritional and smoking cessation counseling
Periodontal scaling
Personalized dental health instruction
Scaling and plaque removal; cleaning and polishing
X-rays, referred to the patient's dentist upon request
Our Dental Hygiene Clinic reopening message.
Make your required appointment today: 860-218-1800 or fill out our appointment request form.
All services are free of charge.
Day, evening, and Saturday hours.
Your health and your family's are important to us. Let us help put you on the road to a happier and healthier life. The Goodwin University Dental Hygiene Clinic is located at 403 Main Street, East Hartford, Connecticut.
---
Current patients please rate your last visit by completing our patient satisfaction survey.