Meet the Occupational Therapy Assistant (OTA) Director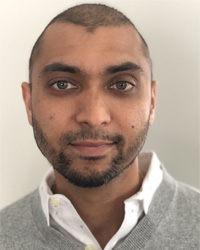 Parth Desai has practiced occupational therapy specializing in geriatric care since 2008, with a focus on pain management via manual therapy since 2012.
Desai's expertise as a holistic OTA health professional brings real-life experiences into the classroom through engaging stories from the field, including current practice trends that enhance each student's learning experience.
Desai was the recipient of Goodwin University's "Make a Difference" Award in 2017.
In 2018, he earned the national leadership title of Master Clinician from Genesis Rehab Services.
In 2019, Desai became a teaching fellow of Universal Design for Learning (UDL) with The Goodwin University Institute for Learning Innovation (GUILI).
As the Director of the Occupational Therapy Assistant program, Desai looks forward to educating and empowering dedicated students to achieve their dream careers as occupational therapy assistant clinicians.
A message from Dr. Desai
If you're looking to make a difference in a client's life physically, mentally, and socially, occupational therapy is the field for you.

Diverse in the people we serve, occupational therapy is a sector where you can work with clients throughout the lifespan, from pediatrics to geriatrics. The OTA program also provides various fieldwork opportunities for you to connect your classroom knowledge to current practice.

The OTA program at Goodwin University follows the exceptional Universal Design for Learning framework. Under this pedagogy, our faculty is committed to meeting you where you are — providing a blend of traditional learning methods with innovative, hands-on instruction that allows you to communicate your understanding of the coursework in a variety of unique, creative ways.

For prospective learners looking to make an impact in the lives of others, the OTA community is calling, and we can't wait for you to get started on your path to professional success!
Best regards,
Parth M. Desai, OTD, OTR/L, MCMT