Manufacturing Management Degree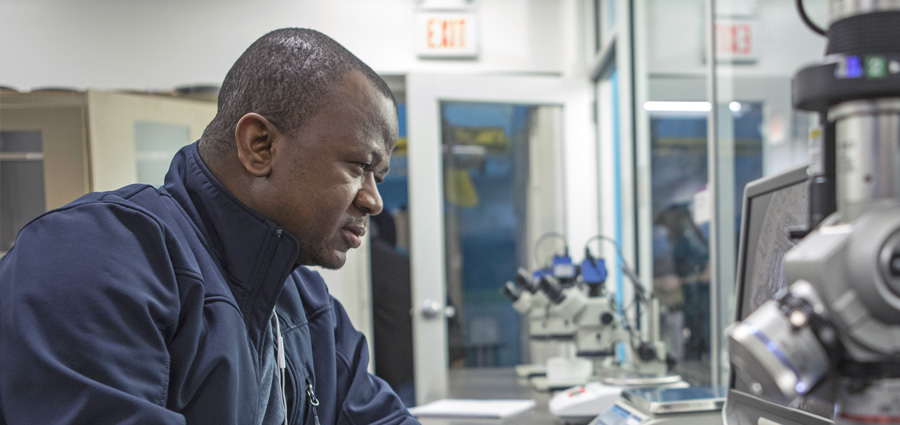 Manufacturing Management Bachelor's Degree
Are you a detail-oriented leader who demonstrates due diligence on a daily basis? Good thing you're here — look no further than Goodwin University for your bachelor's degree in Manufacturing Management. Get ready to study safety standards, quality control, customer service, supervision, and scheduling skills. Learn the language behind logistics and pick-up management techniques and production processes that result in your being an esteemed employee managing a high-quality team that produces first-rate products.
Coursework That Caters to Your Interests
With overall themes of leadership, problem-solving, safety, and teamwork, Goodwin's Manufacturing Management program allows you to focus on specific areas of interest through our manufacturing elective course options. In the program, after completing your general education requirements, you can choose one of three concentrations: Computer Numerical Control (CNC) Machining, Quality Management Systems, or Supply Chain and Logistics.
Earn Your Degree and Obtain Nationally-Recognized Credentials
In addition to earning 121 credits, you also have the opportunity to gain nationally recognized credentials from the Manufacturing Skill Standards Council (MSSC) including:
Certified Production Technician (CPT) credential
Green Manufacturing credential
Certified Logistics Associate (CLA)
Certified Logistics Technician (CLT) credential
Assemble Your Plan for the Future
Choose from on-campus classes or courses in hybrid formats. Classes are offered days and evenings. Standard 15‑week or accelerated 7‑week class options available.
From student loans and scholarships, to work study programs and grants, our financial aid officers are experts in all things involving educational expenses and they are dedicated to getting you in the door at Goodwin.
Once you're enrolled, our Academic Success Center, in-person and online tutoring, workshops, and student development opportunities are here to keep you on track.
Make Your Mark in Manufacturing Management
Check out a few career possibilities below
Facilities supervisor
Tool designer
Inspection supervisor
Inventory manager
Maintenance supervisor
Manufacturing supervisor
Production planner
Quality manager
Safety supervisor
Shipping & receiving supervisor
Chip Thermer
Interim Director, Manufacturing Management
We're Ready When You Are.
Contact Us Today!
Goodwin University will never sell your personal information to a third party. By submitting your contact information, you give permission to Goodwin University to contact you by phone, email, mail, and text message.
Find more information in the academic catalog.