Commencement
Information for Graduates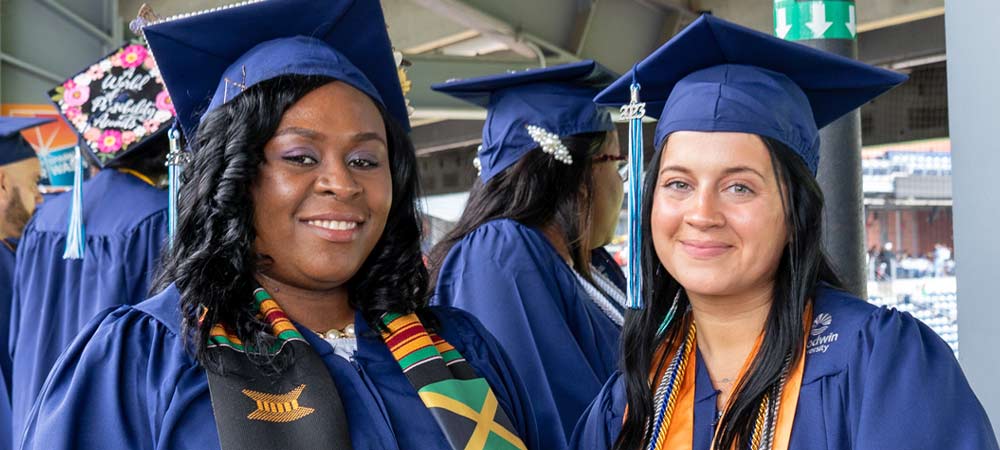 Congratulations on your graduation from Goodwin University. Commencement is the University-wide celebration to honor your accomplishments. We look forward to celebrating with you!
Here are some things you need to know in order to make your day PERFECT:
| | |
| --- | --- |
| 4 p.m. | Graduate check-in and line up (Gate B) and accessibility/restricted mobility check-in (Gate C) |
| 4:30 p.m. | Gate opens for guest seating (Gate C) |
| 6 p.m. | Ceremony begins |
Parking
Graduates will park in the lot for Gate B and enter through Gate B for check-in and line up. Gate B will open at 4 p.m. and check-in will begin. Please be on time!
Entry
Tickets are not required for entry. All bags are subject to search upon entry and are subject to additional searches within the stadium. Backpacks or oversized bags are not permitted. Purses/tote bags that are smaller than 12" x 6" x 12" will be permitted. Bags carrying medical needs will also be permitted and are subject to search by venue personnel. Re-entry is not allowed. You will be scanned with a metal detector at the gate.
Caps and Gowns
Caps and gowns must be picked up at the Regalia Distribution Event on Tuesday, May 24. Graduates must come to the commencement already dressed in their regalia. Extra regalia will not be available. Without proper regalia, you will not be able to participate in the ceremony. You will be taking your caps, gowns and/or master's hoods home with you after the ceremony. They are yours to keep.
Photography
GradImages is the official photographer for the 2022 Commencement. A package with proofs and order information will be mailed to graduates' homes after commencement. Two photos will be taken of you at the stage and one will be taken after you walk off of the stage. Please be sure to stop at the GradImages photo station after you walk across the stage to have your picture taken.
Duration of Ceremony
The 2022 Commencement will be held outdoors at Rentschler Field in East Hartford. The ceremony begins at 6 p.m. and will be approximately three hours. Out of respect for all graduates, you are required to stay for the entire ceremony. We allow recognition of the moment with clapping; however, we ask that it be kept to a minimum in consideration of each graduate.
Check-In and Lineup
Graduates are expected to arrive by 4 p.m. Check-in begins at 4 p.m. The check-in table will be located immediately after you enter the gate. At check-in, volunteers will provide graduates with name cards and assist with the lineup. Please keep the card with you at all times. You will hand your name card to a member of administration before walking across the stage. Complimentary water and light snacks will be available to graduates.
Procession
The ceremony commences with the Board of Trustees, Administration, Honorary Degree Recipients and faculty taking their seats on stage and other designated areas. Once they are in their locations, graduates will begin a formal procession and be seated.
This will be done in order by department and with master's degree recipients first, bachelor's degree recipients second, associate degree recipients third and collegiate certificate recipients fourth.
Presentation of Degrees
Graduates will be directed, row by row, to the stage. Prior to approaching the stage, a photo will be taken. Once on stage, graduates will present their name card to a member of Administration, who will announce their name and degree information. After being introduced, each graduate will walk across the stage to shake hands with President Mark Scheinberg while a second photo is taken. Graduates will then exit the stage for a third photo before returning their seats. All photos will be taken by GradImages.
Diplomas will not be distributed at commencement, but you will receive a complimentary diploma frame. Graduates will receive an email to their Goodwin University account when diplomas are available for pick-up.
End of Ceremony
At the end of the ceremony, President Mark Scheinberg will address the audience with closing remarks and tassels will be turned. Graduates are expected to remain in their seats until all of the Board of Trustees, Honorary Degree Recipients and Administration have left the stage. Class marshals will direct graduates to the exit.
Commencement Printed Program
For the past two years, COVID restrictions have prevented handing out printed programs. As of this writing, we do intend to provide printed programs at the ceremony, unless health restrictions change.
Ceremony Etiquette: Do's and Don'ts
This is a special ceremony when all of your hard work and time is celebrated. There is an expectation that all graduates return to their seats immediately after leaving the stage. Graduates are expected and required to stay in their seats until the last name is called and tassels are turned.
Do arrive by 4.m. for check-in.
Do arrive appropriately dressed with your cap and gown. Extra caps and gowns will not be available. Without proper regalia, you will not be able to participate in the ceremony.
Do keep your name card with you at all times. You will be presenting it to a member of Administration before walking across the stage.
Do stay for the entire ceremony.
Do be sure to use the lavatory prior to the start of the ceremony.
Do mute your cell phone.
Don't carry or wear flowers.
Don't decorate your gown. Decorations are allowed on caps ONLY.
Don't have children sitting with you.
Don't carry a cell phone, purse, backpack, any other kind of bag or anything in your hands during the procession.