Commencement
Information for Graduates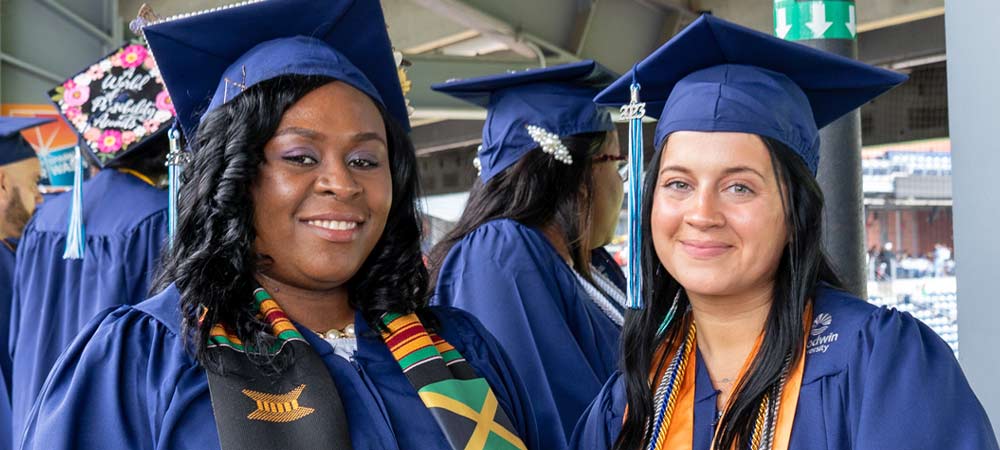 Congratulations on your graduation from Goodwin College. Commencement is the college-wide celebration to honor your accomplishments. We look forward to celebrating with you!
Here are some things you need to know in order to make your day PERFECT:
| | |
| --- | --- |
| 8 a.m. | Graduate check-in and line up |
| 9:15 a.m. | Tent opens for guest seating |
| 10 a.m. | Ceremony begins |
Parking
Parking will be available at:
Goodwin College
Main Campus
One Riverside Drive
East Hartford, CT 06118
Goodwin College
403 Main Street
East Hartford, CT 06118
Riverside Magnet School at Goodwin College
29 Willowbrook Road
East Hartford, CT 06118
Connecticut River Academy at Goodwin College
Nine Riverside Drive
East Hartford, CT 06118
Golf cart shuttle services will be available.
Caps and Gowns
Caps and gowns must be picked up at the Grad Expo on Thursday, May 30. Graduates must come to the commencement ceremony with their caps and gowns.
Photography
GradImages is the official photographer for the 2019 Commencement. A package with proofs and order information will be mailed to graduates' homes after commencement.
Duration of Ceremony
The 2019 Commencement will be held outdoors on the Goodwin green under a large white tent. The ceremony begins at 10 a.m. and will be approximately three hours. Out of respect for all graduates, you are required to stay for the entire ceremony. We allow recognition of the moment with clapping; however, we ask that it be kept to a minimum in consideration of each graduate.
Check-In and Lineup
Graduates should arrive at 8 a.m. The check-in tent will be in the parking lot adjacent to 195 Riverside Dr. Graduates will be directed there once they arrive to campus. At check-in, volunteers will provide graduates with name cards and assist with the lineup. Please keep the card with you at all times. You will hand your name card to a member of administration before walking across the stage.
Procession
The ceremony commences with the Board of Trustees, Administration, Honorary Degree Recipients and faculty entering the tent to take their seats on stage and other designated areas. Once they are in their locations, graduates will enter the tent in a formal procession and will be shown to their seats.
This will be done in order by department and with master's degree recipients first, bachelor's degree recipients second, associate degree recipients third and collegiate certificate recipients fourth.
Presentation of Degrees
Graduates will be directed, row by row, to the stage. Prior to approaching the stage, a photo will be taken. Once on stage, graduates will present their card to a member of Administration, who will announce their name and degree information. After being introduced, each graduate will walk across the stage to shake hands and receive a diploma cover from President Mark Scheinberg while a second photo is taken. Graduates will then exit the stage for a third photo before returning their seats. All photos will be taken by GradImages.
Diplomas will not be distributed at commencement. Graduates will receive an email to their Goodwin College account when diplomas are available for pick-up. Diplomas must be picked up at Goodwin College.
End of Ceremony
At the end of the ceremony, President Mark Scheinberg will address the audience with closing remarks. Graduates are expected to remain in their seats until all of the Board of Trustees, Honorary Degree Recipients and Administration have left the stage. Class marshals will direct graduates to the tent exits and then to the faculty receiving lines which are organized by department.
Commencement Printed Program
Graduates will have a program book that describes the ceremony and lists graduates' names on their seats.
Ceremony Etiquette: Do's and Don'ts
This is a special ceremony when all of your hard work and time is celebrated. There is an expectation that all graduates return to their seats immediately after leaving the stage. Graduates are expected and required to stay in their seats until the last name is called and tassels are turned.
Do arrive at check-in 30 minutes early.
Do arrive appropriately dressed with your cap and gown. Extra caps and gowns will not be available. Without proper regalia, you will not be able to participate in the ceremony.
Do keep your name card with you at all times. You will be presenting it to a member of Administration before walking across the stage.
Do stay for the entire ceremony.
Do be sure to use the lavatory prior to the start of the ceremony.
Don't carry or wear flowers.
Don't carry a cell phone, purse, backpack or any other kind of bag. We suggest that you leave those items with a guest.