Commencement
Information for Faculty and Staff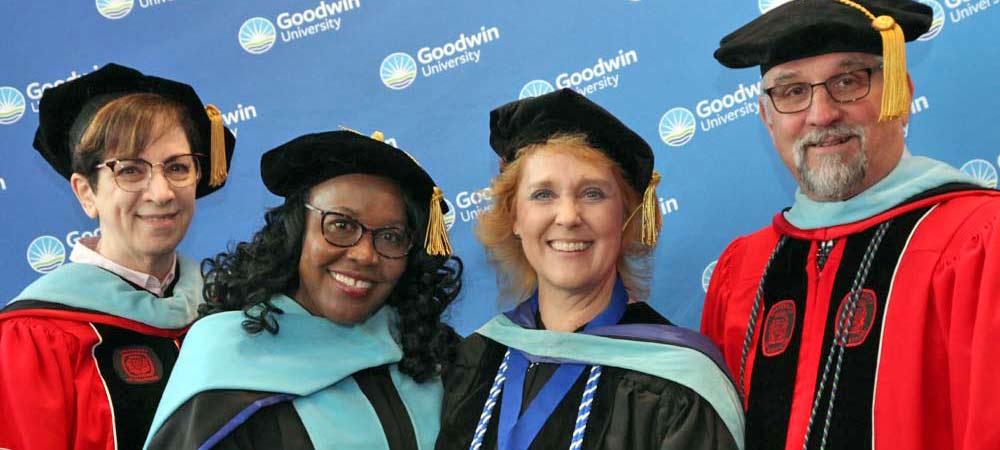 Thank you for supporting our graduates during this momentous occasion! Our graduates are always pleased to see those who have defined so much of their Goodwin University experience join them on this special day. Attendance is mandatory for all full-time faculty and staff. If you are unable to attend, you must email Jean White, Vice President for Human Resources, at JWhite@goodwin.edu.
Here are some things you need to know for our graduates' big day:
Staff Volunteers
Staff that have volunteered to assist at the ceremony will be receiving separate information and will abide by those instructions. Instructions for staff volunteers specifically will not be found on this page.
Parking and Arrival
Staff: Staff attending the ceremony as guests will park in the lot for Gate C and enter through Gate C. Gate C will open at 4:30 p.m.
Faculty: Full-time faculty processing in the ceremony will park in the lot for Gate A and enter through Gate A (Club and Suites Entrance). The gate opens at 3 p.m. Please check-in at the gate and immediately head to the Club for the faculty lunch and line up. Full-time faculty that are processing in the ceremony must come dressed in regalia. Part-time faculty that are interested in attending the ceremony as guests will follow the instructions above for staff parking and arrival.
Entry
Tickets are not required for entry. All bags are subject to search upon entry and are subject to additional searches within the stadium. Backpacks or oversized bags are not permitted. Purses/tote bags that are smaller than 12" x 6" x 12" will be permitted. Bags carrying medical needs will also be permitted and are subject to search by venue personnel. Re-entry is not allowed. You will be scanned with a metal detector at the gate.
Duration of Ceremony
The 2022 Commencement will be held outdoors at Rentschler Field in East Hartford. The ceremony begins at 6 p.m. and will be approximately three hours. Out of respect for all graduates, faculty and staff are asked to stay for the entire ceremony. We allow recognition of the moment with clapping; however, we ask that it be kept to a minimum in consideration of each graduate.