Commencement
Information for Faculty and Staff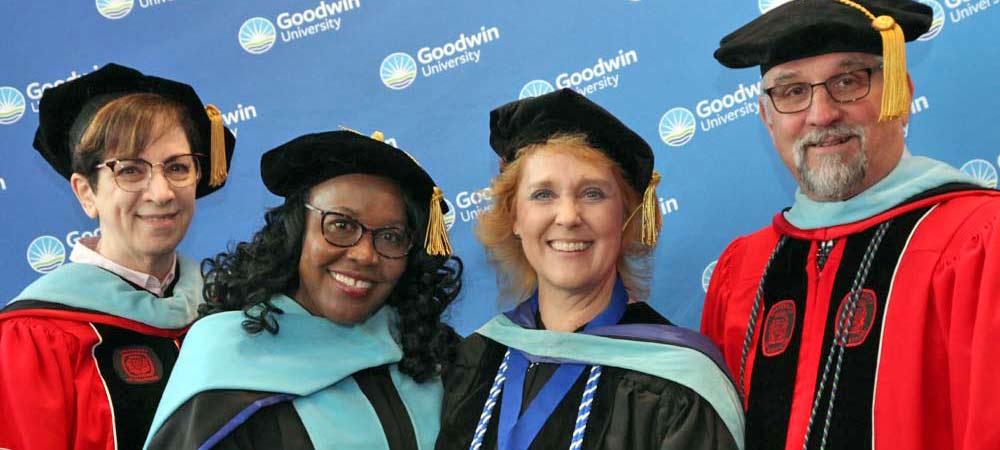 Thank you for supporting our graduates during this momentous occasion! Our graduates are always pleased to see those who have defined so much of their Goodwin College experience join them on this special day.
Here are some things you need to know for our graduates' big day:
RSVP Required
In order to ensure enough seating at the commencement ceremony and attendance at the after party, all faculty and staff planning to attend one or both, must RSVP. An email will be sent to all members of the Goodwin College faculty and staff. Please RSVP by May 13, 2019.
Parking
Faculty and staff are asked to park at Pent Road or Pathways Academy of Technology & Design. Golf cart shuttle service will be available.
Arrival
Staff must wear their blue Goodwin College nametags. Faculty must arrive dressed in regalia if they are participating in the faculty procession at the ceremony. A light breakfast will be provided for all faculty and staff. The breakfast will be located by the Hoffman Family Library.
Duration of Ceremony
The 2019 Commencement will be held outdoors on the Goodwin green under a large white tent. The ceremony begins at 10:00 am and will be approximately three hours. Out of respect for all graduates, faculty and staff are asked to stay for the entire ceremony. We allow recognition of the moment with clapping; however, we ask that it be kept to a minimum in consideration of each graduate.
Staff will not be processing in, but a reserved seating section will be available for employees.
After Party
Please join us at Carmines at 389 Main St., East Hartford immediately following the commencement ceremony. Appetizers and one beverage ticket will be provided for every Goodwin College employee. Beverage tickets will be distributed at the door.