Commencement
Information for Parents and Guests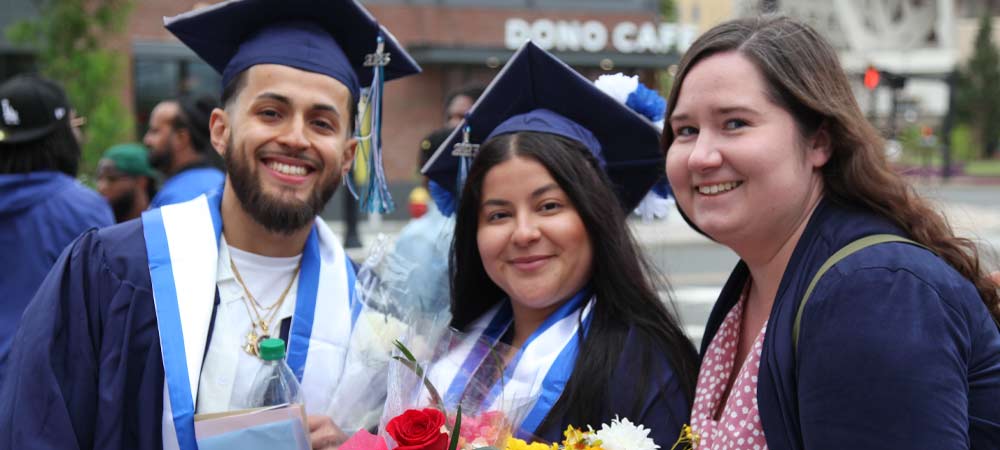 Goodwin University is pleased to welcome you to the 2022 Commencement. We are delighted to be celebrating with you and your family at this exciting time.
Here are some things you need to know for your graduate's big day:
Parking
Guests will park in the lot for Gate C and enter through Gate C. Gate C will open at 4:30 p.m. Guests requiring accessibility services must register in advance. Gate C will open at 4 p.m. for accessibility seating ONLY.
Arrival & Entry
The 2022 Commencement will be held outdoors at Rentschler Field in East Hartford. The ceremony begins at 6 p.m. The event is general admission and tickets are not required for entry. There is also no guest limit and no assigned seating. All bags are subject to search upon entry and are subject to additional searches within the stadium. Backpacks or oversized bags are not permitted. Purses/tote bags that are smaller than 12" x 6" x 12" will be permitted. Diaper bags are permitted in the company of a small child. Bags carrying medical needs will also be permitted and are subject to search by venue personnel. Baby strollers are not allowed into the stadium. Re-entry is not allowed. You will be scanned with a metal detector at the gate.
Food
Complimentary water will be available at the gate and in the concourse. There will be two concession stands open. One closer to the gate and one closer to the seats. You will be able to purchase soft drinks and food there. Please no gathering in the concourse and return to your seats immediately after purchasing food.
Livestream
A livestream of the ceremony will be available on the Goodwin University website for guests who are unable to attend in person.
Photography
GradImages is the official photographer for the 2022 Commencement. A package with proofs and order information will be mailed to graduates' homes after graduation. Please note that guests will not be allowed to come to the front of the stage or into the aisles for photos of or with their graduate. You will be asked to move out of the aisle or from the front of the stage by a Goodwin University staff member.
Commencement Printed Program
For the past two years, COVID restrictions have prevented handing out printed programs. As of this writing, we do intend to provide printed programs at the ceremony, unless health restrictions change.
Duration of Ceremony
The duration of the ceremony is approximately three hours. Out of respect for all graduates, guests are expected to remain for the entire ceremony. We allow recognition of the moment with clapping; however, we ask that it be kept to a minimum in consideration of each graduate.