Commencement
Information for Parents and Guests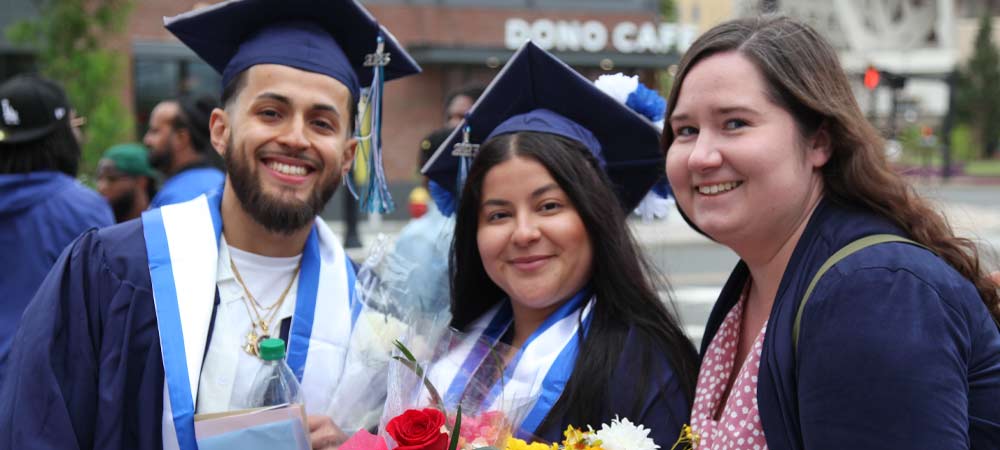 Goodwin College is pleased to welcome you to the 2018 Commencement. We are delighted to be celebrating with you and your family at this exciting time.
Here are some things you need to know for your graduate's big day:
Parking
Parking will be available at:
Goodwin College
River Campus (Main Campus)
One Riverside Drive
East Hartford, CT 06118
Goodwin College
403 Main Street
East Hartford, CT 06118
Riverside Magnet School at Goodwin College
29 Willowbrook Road
East Hartford, CT 06118
Directions
Click here for directions to Goodwin College's River Campus and other parking areas.
Arrival
The 2018 Commencement will be held outdoors on the Goodwin green under a large white tent. The ceremony begins at 10:00 am and the tent will be open for guest seating at 9:15 a.m.
Tickets
This is a ticketed wristband event. Wristbands are required for all guests, staff and vendors. Wristbands are required for all tent and building access. Accessibility seating opens at 9 a.m. General guest seating opens at 9:15. No balloons or backpacks are allowed underneath the tent or in any of the buildings.
We welcome guests to bring lawn chairs and sit on the outer perimeter of the tent.
Photography
GradImages is the official photographer for the 2018 Commencement. A package with proofs and order information will be mailed to graduates' homes after graduation. Please note that guests will not be allowed to come to the front of the stage or into the aisles for photos of or with their graduate.
Commencement Printed Program
A program book describing the ceremony and listing the graduates' names will be distributed to guests by graduation volunteers prior to seating.
Duration of Ceremony
The duration of the ceremony is approximately three hours. Out of respect for all graduates, guests are expected to remain for the entire ceremony. We allow recognition of the moment with clapping; however, we ask that it be kept to a minimum in consideration of each graduate.
Live Stream
A live stream of the ceremony will be available on the Goodwin College website for guests who are unable to attend the commencement ceremony.
Balloons
Please be aware that balloons are not allowed in the tent.
Goodwin College Swag
The Goodwin College Bookstore will be open for any Goodwin College merchandise you would like to purchase.
Keeping tabs on your graduate? Visit the Information for Graduates page to learn how our students will be participating in graduation festivities.