About Goodwin
Goodwin Goes Green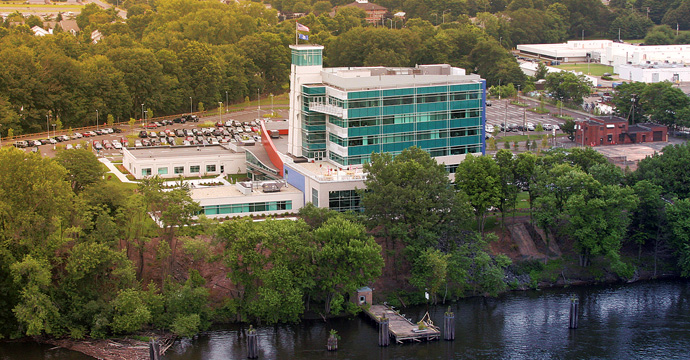 Goodwin College is building a sustainable environment to benefit the College, the magnet schools, and the surrounding community.
Greening the Land
Decontamination of industrial sites in East Hartford
Ground Water Improvements
Polluted groundwater lying below the parking lot was treated for petroleum contamination before reaching the Connecticut River.
To remove the contaminants, an oxidizer was carefully combined with other chemicals to produce the desired reaction. Goodwin's remediation was unique due to the use of hydrogen peroxide as the oxidizing agent. The Connecticut Department of Energy and Environmental Protection granted Geo-Cleanse permission to apply the hydrogen peroxide, which has been used in other states on larger scale remediation projects.
Green Agriculture and Food Security
Goodwin's Community Garden, founded in 2012
An organic garden
Shares the joy of gardening with students, employees, and neighbors.
Plots are assigned on a first-come, first-served basis.
Goodwin's Riverside Farmers' Market
Since its inception in July 2013, the market has offered fresh produce to consumers in the East Hartford and Goodwin communities.
A large amount of produce grown in the Community Garden is donated to Goodwin's Transitions Food Pantry to aid students on very tight budgets.
Green Transportation
Goodwin owns properties throughout East Hartford, from the main campus on Riverside Drive to the surrounding neighborhoods and points along Main Street. Through the car and bike share programs, all areas of the campus will be accessible.
Goodwin staff use Smart cars and an electric vehicle. Three electric vehicle charging stations are available throughout the College campus, free-of-charge for students, faculty, and staff.
A vehicle-rental program, operated through a partnership with UHaulCarShare, is accessible from Riverside Drive 24 hours a day.
A bike share program for students (15 bicycles)
A trolley is available to transport students, faculty, and staff to campus buildings.
Conservation
Motion sensor lighting in rooms and bathrooms.
Waterless urinals have been installed to conserve water (40,000 gallons per urinal per year).
A single stream reuse/recycle program is now in operation.
HVAC is programmable for use when rooms are being occupied.
Studies/Events at the College
The Connecticut River is a big part of our community here at Goodwin, and this event allows those interested to learn more about caring for the River.
The Environmental Studies program is working with CT DEEP on an air quality monitoring station to monitor contaminants created by the highway system. This program is also working with the US Geological Survey monitoring water quality in the Connecticut River.
Goodwin, in conjunction with two Connecticut Environmental Consulting firms, promotes and participates in Source to Sea cleanup with the Connecticut watershed cleanup.
A monthly speaker/seminar series, open to the public, offers presentations by area professionals and academics concerning the Connecticut River.
Several sponsored/guided trail walks are offered every year with the Great Meadows Conservancy Trust and Appalachian Mountain Club.
The South Meadows, owned by Goodwin, are a Living Lab for the Environmental Studies students. Field studies, ecological restorations, and water-quality monitoring can be tested at this site.
The College held a colloquium on Connecticut River Floodplain Research in 2013, with presenters and attendees from all over the state.
With the aid of the Metropolitan District Commission, water technician programs will soon be offered at both the Connecticut River Academy and Goodwin College
The Connecticut River Odyssey is a three-week college course offered to high school students. Much of the students' time is spent in hands-on science, using the Connecticut River watershed as a classroom.
The Environmental Studies program employs environmentally appropriate methods to eradicate non-native invasive plant species.
The National Organic Farming Association meetings have been hosted on campus.
Hosting the Connecticut Annual Greenways meeting in June, 2014.
Energy Conservation in the Magnet Schools
Connecticut River Academy (CTRA) students use water fountains to replenish personal bottles to reduce plastic waste with a feature that shows how many bottles were saved.
Controlled lighting at CTRA offers a natural light spectrum with a dimming factor.
Paperless Dyson hand dryers at CTRA reduce the amount of paper used.
Heating using natural small efficient gas boilers which can be turned on and shut off as needed to conserve energy.
Cork flooring in CTRA fitness room is made from sustainable recycled materials. Bamboo tiles are used in the lobby. River rocks have been used to decorate the lobby as well.
A rain water reclamation system has been implemented at CTRA where rain water is reclaimed from the roof, cleaned, dyed blue, and processed for flushing the toilets.
CTRA is a member of the Connecticut Green LEAF program, an ongoing project to research, identify, and promote an effective approach to sustainability on school grounds.
A dock has been built on the river in front of CTRA with a research vessel used for educational purposes.
In the Early Childhood school reclaimed tires are used as turf and wood furniture is a staple.
Special Features
A Habitat Center is located on the green roof at CTRA with hydroponics, terrariums, and gardens.
A boat will be used as a teaching vessel for CTRA and Goodwin students.
Scroll