History of Goodwin University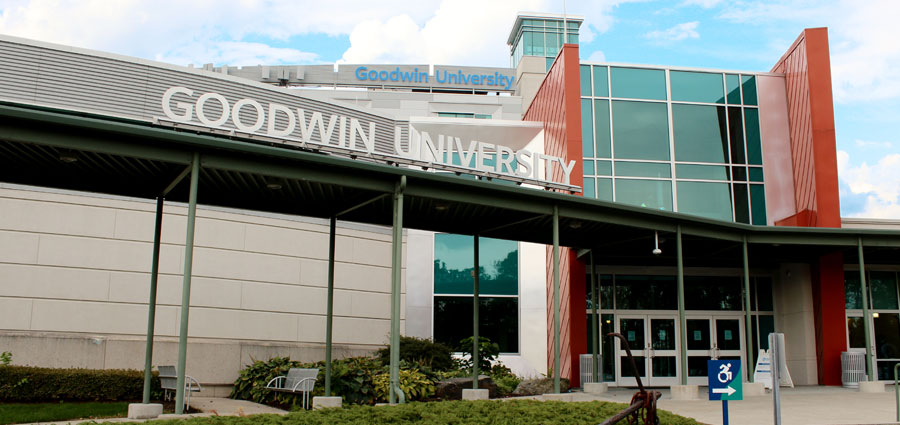 Goodwin University is proud of its remarkable legacy of creating career-focused, educational opportunities for its students for more than 20 years. It has grown from a business technology training center, to an accredited baccalaureate college, to a re-imagined, community-based university comprising three schools of academic discipline: the School of Nursing and Health Professions, the School of Business, Technology, and Advanced Manufacturing, and the School of Applied Liberal Arts and Social Sciences.
Led by founder Mark Scheinberg and accredited by the New England Commission of Higher Education, Goodwin has reached an impressive series of milestones, including the creation of one of Connecticut's leading nursing programs, approval to grant bachelor's and master's degrees, and the development of a vibrant campus and neighborhood along the Connecticut River.
Goodwin is a statewide leader in advanced manufacturing, collaborating with regional employers and other educational organizations. In addition to continually updating its offerings for career readiness, Goodwin devotes thoughtful planning to how it delivers training. The Advanced Manufacturing Mobile Lab is a familiar site at schools as well as at established employers, where it provides customized incumbent worker training. Unique to the University's outreach are the early college partnerships formed with school districts throughout the state to afford high school students access to specialized career training, often earning college credits.
The School of Nursing and Health Professions has grown significantly in recent years with the addition of the Dental Hygiene and Funeral Service programs. A dental clinic on Main Street is open to students, employees, and the public.
Also adding to campus growth are the sustainability-themed Connecticut River Academy (grades six to 12) and the Reggio-Emilia-based Riverside Magnet School.
Central to the Goodwin mission, first and foremost, is service to students. In that spirit, Goodwin has embraced Universal Design for Learning (UDL) as its central teaching philosophy, removing traditional obstacles to learning and re-thinking the ways that all learners are able to demonstrate their knowledge and comprehension. UDL has proven incredibly successful, leading to the establishment of the Goodwin Institute for Learning Innovation, with schools nationwide looking to the University for visionary thinking in education.