Residential Life
After several months of thoughtful conversations, Goodwin University has made the difficult decision to sunset our Residential Life program after the spring 2024 semester. During this transitional period, our Residential Life programming will continue as it currently exists supporting our students who are currently living in student housing and those who have completed the application process for our upcoming academic year. Applications are no longer being accepted.
After May 31, 2024, residential students can contact Campus Reality to request housing under a tenant leasing agreement.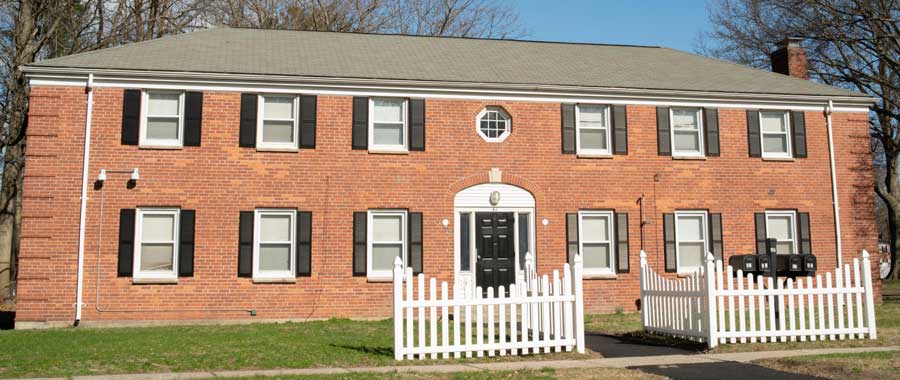 Below is a list of items residents will typically bring and a list of prohibited items. Please note that the list of suggested items to bring is not all-inclusive and no item on the list is required.
What to bring to campus
Bedroom
Bathroom shower mat
Bathroom wastebasket
Bedding: beds are Twin XL
Cleaning supplies: dish and hand soap
Decorations
Foam mattress pad
Pillows
Toiletries
Toilet paper
Laundry
Coat hangers
Fabric softener
Laundry hamper
Laundry detergent
Kitchen
Broom and dustpan
Cleaning supplies, dish and hand soap
Countertop cleaner
Dish drying rack
Dishes, plates, cups, bowls
Microwave: one per apartment to be kept in the kitchen
Paper towels, dish towels
Place mats
Silverware
Swiffer, mop
Tablecloths
Toaster: must have auto shut-off and be UL approved
Toilet paper
Wastebaskets: must be made of metal or plastic (no wicker wastebaskets)
Other items
Air fresheners: must be UL approved
Area rugs/ carpet: must have padding if covering hardwood floors
Batteries
Bicycle: must not block egress (door or window of room)
Computer or laptop
Fish bowl: for fish only, tank not to exceed 2 gallons
Hair dryer/curling iron: hand-held only, must be UL approved
Indoor/outdoor decorative lights: must be UL approved
Iron: must have auto shut-off and be be UL Approved
Ironing board
Lamps desk and/or floor lamp: must be UL approved
Pictures of family and friends
Plug strip/surge protector: must have built-in circuit and be UL approved
Posters/wall coverings: must not exceed 50% of wall and cannot use duct tape or nails; tacks only.
School supplies
Stereo: only one per apartment
Television
---
Prohibited items in student housing
Air conditioners
Amplifiers
BB guns
Candles (with or without wicks, including decorative candles)
Cardboard drawer units
Ceiling fans
Coffee pots or makers (Keurig's are allowed to be kept in the kitchen)
Decorations that have adhesive
Drum sets
Duct tape
Electric appliances
Electric blankets
Electric guitars
Extension cords (non-UL approved)
Firearms
Fireworks
Fishnets and other ceiling decorations
Flammable liquids
Full-size sofas/couches
Gasoline
Gasoline-powered equipment
Halogen (pole) lamps
Halogen desk lamps with tubular bulbs
Heating elements (immersion type)
Heating units
Hookahs
Hot plates (including George Foreman Grill)
Hot pots
Instant Cooker
Crock-Pot / Slow Cooker
Hover boards
Immersion cup heaters
Incense
Indoor/outdoor decorative lights (non-UL approved)
Kerosene
Knives (other than kitchen knives)
Lamps (kerosene, oil types)
Loft units
Mattress from home
Multi-outlet adapters
Musical instruments that amplify
Non-UL approved items
Paint
Paint thinner
Paneling
Pets (except fish)
Plug in air fresheners
Potpourri burners
Table model ranges
Space heaters
Sterno warming cans
Sun lamps
Toasters (non-UL approved without auto shutoff)
Vaporizers: (non-UL approved)
Waterbeds
Weapons of any kind
Wicker waste paper baskets
Wicker furniture
All other burning/heating equipment or any other potential fire hazards