Style Guide
Upholding The Brand
Consistency in branding and messaging across collegiate departments conveys professionalism and excellence to internal and external audiences. As a College, we strive to uphold branding standards that are flexible enough to allow creativity and innovation, while stringent enough to ensure that all content is a positive reflection of The University and our students and contributes to a greater understanding of our mission and core values as an institution.
View the Official Style Guide.
The Goodwin University logo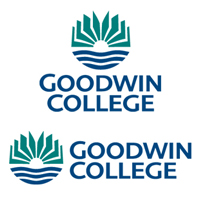 The Goodwin University logo should appear on college materials that are distributed internally and externally. When used on top of a darkly colored background, a white version of the logo may be used; otherwise, the original color version must be used. Applying alternate colors to the logo is not permitted.
The logo may appear any size; however, the proportions must remain the same as the original image (i.e. do not stretch the logo to make the image wider or taller).
College Colors
The official College colors are Blue and Green. They are represented in The University logo with the following Pantone colors: Book — PMS 328. Text and waves — PMS 541. The Marketing and Communications Department can help vendors accurately match The University colors for various items.
Goodwin Blue
Pantone: PMS 541
CMYK: C100 M78 Y32 K22
RGB: R0 G60 B113
Goodwin Green
Pantone: PMS 328
CMYK: C100 M30 Y64 K17
RGB: R0 G115 B103
The Seal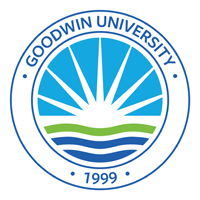 The Goodwin University Seal is the official mark of the Office of the President. It may only be used with permission from the Communications Department for special occasions, such as commencement, or on official documents from The University, such as official transcripts. The Seal should never be used in place of the Goodwin University Logo.
Mascot Artwork
The Navigators are the official mascots of The University. They are depicted as male and female seafarers. Only official Navigators artwork approved by the Marketing and Communications Department may be used. Images depicting the Navigators may be used on apparel and promotional items, but should never be used in place of The University Logo. Whenever possible, The University Logo should also appear on any Navigator-themed items.