Title IX: Gender-Based and Sexual Misconduct
Members of The University community, guests and visitors have the right to be free from sexual violence. All members of the campus community are expected to conduct themselves in a manner that does not infringe upon the rights of others. Goodwin University believes in a zero tolerance policy for gender-based misconduct. When an allegation of misconduct is brought to an appropriate administrator's attention, and a respondent is found to have violated this policy, serious sanctions will be used to reasonably ensure that such actions are never repeated. This policy has been developed to reaffirm these principles and to provide recourse for those individuals whose rights have been violated. This policy is intended to define community expectations and to establish a mechanism for determining when those expectations have been violated.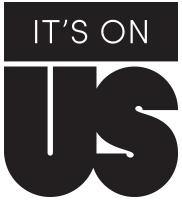 With the support of partners across the country, It's On Us is a rallying cry of personal responsibility, a declaration that we all have a role to play in stopping sexual assault.
From bystander intervention on college campuses to creating a cultural environment that makes sexual assault unacceptable, the It's On Us campaign invites everyone to stand up and become part of the solution.
IT'S ON US. All of us.
For more information, visit: itsonus.org
Take the pledge.