Student Engagement
Dean's Council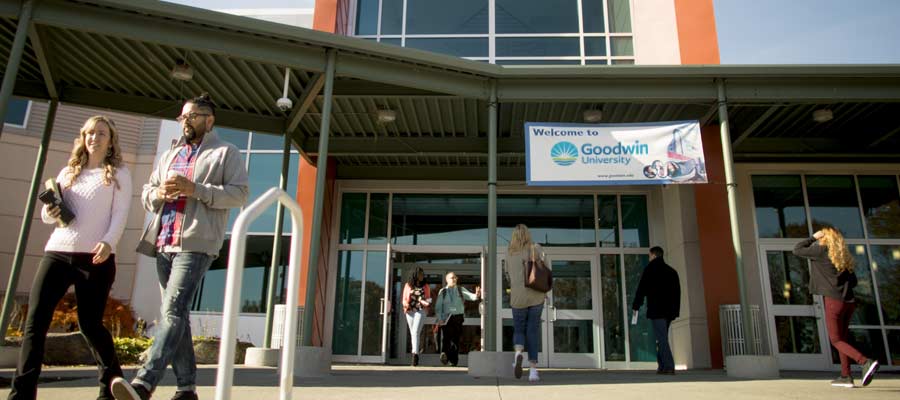 The Dean's Council is comprised of students that are motivated, outgoing, highly involved at Goodwin University and are in superb academic standing. They serve as the representative voice of the Goodwin University student body to the faculty and administration, and are responsible for sharing their thoughts and ideas on University policies, initiatives, and equity and inclusion. They will make decisions that have an impact on the Goodwin University campus as a whole and that are imperative to the success of the University. The Dean's Council gets the real-world experience of working with administration, staff, the Dean of Students and the President of Goodwin University. Furthermore, the Dean's Council serves as the liaison between the Goodwin University student body and the Board of Trustees. Students in the Dean's Council are also present at high-level events when needed.
Facilitate superb communication among the University community
Coordinate and encourage student participation
Continue the University's diversity, equity and inclusion efforts
Represent the interests of students throughout the University decision making proces
Enhance student welfare and interests
Ensure fair treatment for all University students
Promote student participation in the academic life and mission of the University
Those involved in the Dean's Council will hold a level of dedication and expectation of excellence. As a member, you are expected to hold the peace and protect the welfare of all Navigators at Goodwin University. This is what we need from you:
Students must be in good academic standing with a minimum GPA of 3.0
Students must be enrolled at Goodwin University for at least one semester
Students must be able to attend regularly scheduled meetings and trainings
Students must be on time for all commitments related to the Dean's Council
Students must have access to reliable transportation
Students must be comfortable with written and verbal communication
Students must be dependable and have good time management skills
Students must be passionate about representing Goodwin University
Students must be self-starters and take initiative
Students must be willing to work with a team
The Dean's Council gives you the opportunity to be civically engaged and share your own voice with your campus. Here are some other things you will get out of being a part of the Dean's Council.
Get that feel-good factor and sense of achievement
Make a difference
Develop skills and confidence
Improve your motivation
Learn more about yourself and your abilities
Broaden your horizons
Meet new people
Gain a sense of community and belonging
Cultivate leadership
Keep busy and active
Greater credibility through volunteer support and engagement
Great addition to your resume
Network with future employers and senior administration
Have fun!
For more information or to apply to be a part of the Dean's Council, please contact:
Vanessa Pergolizzi
Student Engagement Manager