Meet the Chief Nurse Administrator, BSN Program Director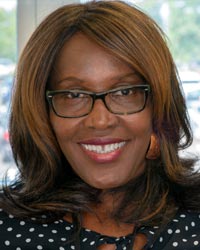 Dr. Vivienne Friday is an experienced nurse educator with specific concentrations in the health care and well-being of the older populations. She spends her time mentoring nursing students and faculty to help them realize their highest potential. Dr. Friday is also an accomplished, awarded author with scholarly publications and conference presentations from various well-respected nursing leagues and councils.
Dr. Friday's passion for the nursing profession began when watching the midwives and visiting nurses care for the sick in her small Jamaican village. Dr. Friday was also the first in her family to graduate from college. A lifelong learner, she continued her education while embarking on career success.
Now the Chief Nurse Administrator, Interim Dean of Nursing, Bachelor of Science in Nursing (BSN), and Accelerated Bachelor of Science in Nursing (ABSN) program director for Goodwin University, Dr. Friday will continue to impact the lives of students, faculty, and staff — just as the visiting nurses in her village inspired and motivated her to make a difference years ago.
A Message From Dr. Friday
The BSN programs at Goodwin University are challenging and allow students to apply existing skills and competencies to progress within each program. We embrace Open Educational Resources (OER) to make courses more affordable and accessible. We also incorporate Universal Design for Learning (UDL), an education framework that includes various strategies to fit diverse learners.

As the BSN program director, I advise students to strive for success, set lofty goals, and pursue them passionately. I instruct pupils to ignore those who try to convince them that they cannot do something significant. I guide scholars to seek an education as a safeguard against sentiments of what could have been. Become a lifelong learner and focus on your future career.

Earn a valuable degree that enhances your quality of life and prepares you to make a difference to yourself, your family, and your community. I hope you join Goodwin's nurturing nursing community. We're ready to support you to become your best self.
Best regards,
Dr. Vivienne Friday, MSN, RN, CNE
Chief Nurse Administrator, Interim Dean of Nursing, BSN Program Director, and Associate Professor
Contact Us Today!
Goodwin University will never sell your personal information to a third party. By submitting your contact information, you give permission to Goodwin University to contact you by phone, email, mail, and text message.