Faculty Profiles
Sharon J. Koch, Ed.D, LCSW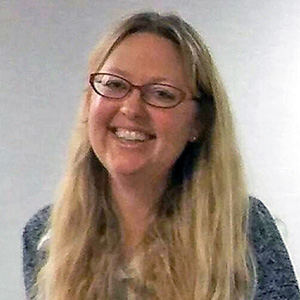 Associate Dean, School of Social and Educational Science and General Education
When I finished high school, I wanted to have a marketable skill to support myself. I began a baccalaureate program at UConn, but I was concerned about finding a job. After researching career options, I chose to enroll in a separate degree program to become a Licensed Optician, and completed both degrees simultaneously.

Although I enjoyed working in the eye care field, I felt my education was not complete. I went on to complete a graduate degree and became a therapist working in a partial hospitalization program for adults and adolescents. This too was fulfilling work, yet my enthusiasm for learning led me to pursue a second graduate degree, this time in education. I soon became a certified school social worker and professional educator. Working in the education field, often at the juncture of counseling and teaching, I supported students in both K-12 and in postsecondary settings.

In 2000, I became the Director of Student Services for the Lyme Academy College, where I also served as the college counselor and taught their first year experience program. I left in 2007 to manage a dual-enrollment program between twenty area high schools and Three Rivers Community College, where I also taught English. During this time in 2011, I completed my dissertation research and graduated from the University of Hartford with a doctoral degree in educational leadership. I soon came to Goodwin, where I am honored to be working with such committed colleagues.


Ed.D., University of Hartford
M.Ed., University of New Haven
M.S.W., University of Connecticut
Bachelor of Communication Science, University of Connecticut
Associate Degree, Ophthalmic Design, Middlesex Community College
Yale Clinic, School of Medicine, Honorary Ophthalmic Fellowship
Areas of Interest / Study / Research
Universal Design for Learning
Writing and Underprepared Students
Nutrition and The Brain
Koch, S.J. (2019, April). College Star modules for applying UDL. Retrieved from https://www.collegestar.org/modules/applying-udl-in-a-lesson-on-the-topic-of-social-media

Koch, S.J. (2013). Best practices to teach writing: a case study. NADE Digest. The National Association of Developmental Education: Goodyear, AZ.

Koch, S.J. (2011). A Case Study of Community College Professors of English: Self-Efficacy Concerning Teaching Basic Writing to Underprepared Students. Dissertation: University of Hartford
Graduate Research Symposium, University of Hartford, West Hartford, CT. 2011.

Co-Presenter, Three Rivers Community College, Rubrics and Assessment for Developmental English Faculty. 2011.

Theory to Action Grant – Faculty Self-Efficacy: Examined in the Context of Working With Underprepared Students. 2011.

Presenter, Housatonic Community College, Forum on Con-Current Enrollment Programs. 2010.

Presenter, Developmental Education in the Community College, New England Educational Research Association, Portsmouth, Teaching to the standard: An examination of secondary English teachers' practice methods. 2010.

Presenter, Dissertation Proposal Poster Session, University of Hartford, CT. 2009.

Best Practices Award: Cultivating Success: Tech Prep Best Practices Across the United States, p. 27-28.

Co-Presenter with Dr. Dawn Sherman, Brain Research in Education, Nichols College, MA. 2008.