Faculty Profiles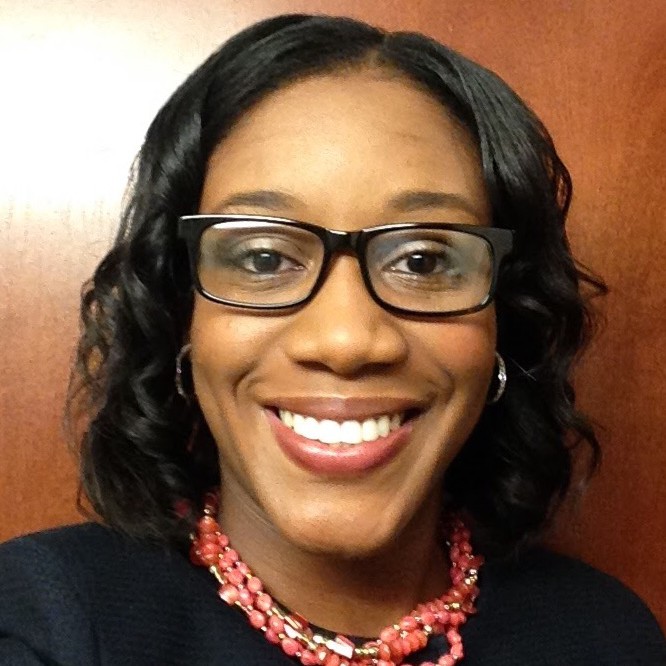 Program Director of Health Sciences and Public Health
Assistant Professor of Public Health
Health and Natural Sciences
Health Sciences, Public Health
Main Building, Room 309 D
General Chemistry
Senior Capstone for Health Science
Senior Internship for Health Science
Community Health
Public Health Personnel and Administration
Introduction to Public Health
Alternative and Complementary Medicine
Medicine and Society

Ashika Brinkley is an Assistant Professor of Public Health, and the Program Director of Health Sciences and Public Health at Goodwin College. She supervises 9 full-time faculty members and over 40 adjunct instructors.
Ashika has worked at Goodwin College since 2005, and started out as an instructor of Chemistry. Over the years she has taught several Public Health courses and has also worked as a Curriculum Development Consultant and Course Developer.

Ashika is an experienced public health professional with a passion for public service. She has worked in various public health settings, including as the Executive Director of the Connecticut Association of Directors of Health (CADH) and at the New Haven Health Department as the Asthma Initiative Project Director for the city of New Haven. During her time in New Haven, Ashika chaired the Greater New Haven Regional Asthma coalition, coordinating collaborations with various stakeholders to help pool resources and increase the efficacy of programs aimed at addressing asthma in the region. Ashika is committed to improving public health and helping meet the needs of under-served people, particularly women.

Ashika is a 2009 Connecticut Health Foundation Health Leadership Fellow and developed a health resource for low income women in called the "Recession Proof Health Guide." She is also a Stanford University Successful Aging Mini-Fellow. Ashika enjoys connecting individuals with resources to advocate for their own health. Her Doctoral Dissertation focused on Work Stress in Community Health Workers, and her Master's thesis explored barriers to screening mammography in African American women.

Ashika is an active volunteer in the Goodwin College community. She serves on several college committees including the Institutional Review Board, Health and Wellness Committee, Syllabus Sub-Committee, Masters Sub-Committee and the College Committee on Assessment.

In her free time she serves on several community boards including the State Innovation Model Community Health Worker Advisory Board and the Institute for Community Research Institutional Review Board.


PhD in Public Health -University of Connecticut
Master of Public Health-Yale University
Bachelor of Science-Chemistry-Morgan State University
Educational Advancement Foundation Excellence Award
New Haven Symphony Orchestra Women of Note Award
St. Vincent's Medical Center Values Recognition Award
Areas of Interest / Study / Research
Work, Stress and Health
Community Health Workers
Health Equity
Community Based Participatory Research
Restricting youth suicide: Behavioral health patients in an urban pediatric emergency department.
Journal of Trauma and Acute Care Surgery, 77(3), S23-S28.

Diels–Alder Cycloadditions: A MORE Experiment in the Organic Laboratory Including A Diene Identification Exercise Involving NMR Spectroscopy and Molecular Modeling.
Journal of Chemical Education 82, no. 4 (2005): 625.
Sturbridge Symposium 2013
Ashika serves on several boards and advisory committees and enjoys volunteering.